---
After completing another degree (I'm now a BA MS M.Phil) and before starting on the next degree, it was time for every student's favorite time of year, summer vacation. So I headed back to the states to spend some time with family and friends.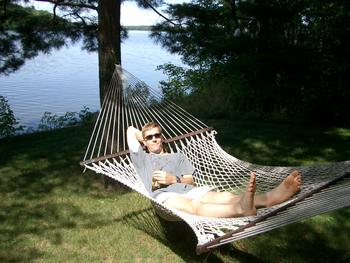 Relaxing up at the lake.
Summer was now in full swing at my folk's place in Hayward, Wisconsin. My sister Melissa and brother-in-law Chris were up at the lake that first weekend. Melissa was very pregnant with my second niece, but was still able to go water tubing (and we even got her back in the boat afterwards). I went waterskiing and even managed to kick one ski off and slalom. While kicking a ski off proved easy, finding the ski later did not. After a prolonged grid search of the lake, we finally located the missing ski.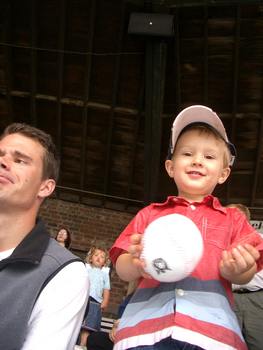 Owen at the Duluth Huskies baseball game
While I was away, my other sister Michelle had produced my first niece Gillian. So I headed to their place in Duluth, my new northern base of operations- featuring running water, laundry, and wireless internet. In theory, it looks like the perfect place to get some work done for In Time or some research for school. The theory however is no match for my three-year-old nephew Owen. Owen can apparently play nonstop from dawn to dusk with only a brief break for his afternoon nap (God bless the nap, long live the nap!). Needing a break from the dinosaur puzzle, I headed up to Kristian's log cabin. Kristian doesn't have a dinosaur puzzle, but he does have a bunch of log walls that needed the mildew scrubbed off. After about an hour of scrubbing, I was wishing for the puzzle.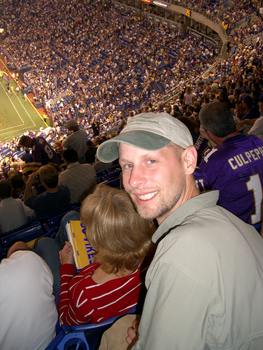 Kristian at the Vikings game.
Having procured Vikings tickets to their first pre-season game, Kristian and I headed down to the cities. The mountain man is not at home in the big city. At one point he nearly put is eye out when a rogue street sign "leaped out and attacked". Rather than using the normal streets to reach his sister's place, we ended up going through a construction site, across some railroads tracks, said howdy to a railroad hobo, and climbed over the wall of a walled community.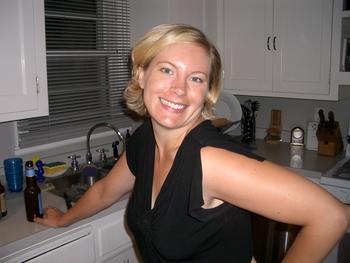 Our celebrity friend Gail live and in person.
The highlight of the trip of course had to be when we actually met with the fabled Gail, an old classmate from Morris. While the rest of us have wallowed as unknown nothings, Gail has gone on to fame and fortune as the helicopter reporter for one of the major Twin Cities television stations (though nobody seems to know which one or recalls ever seeing her on TV, nonetheless she's still the most famous person I know).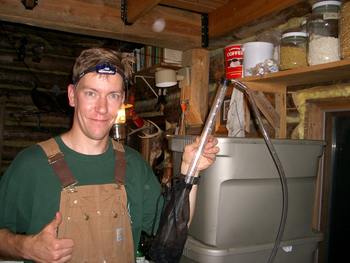 Brewing up a batch of wild berry wine.
Safely back and in the north woods, we got back to serious business, scrubbing logs, brewing wild berry wine, and searching for the chicken's clandestine egg-laying locations. Preparations were also underway for the upcoming Vertanen boundary waters trip. We made a batch of venison jerky in the sauna and seam sealed a new tent. We also tested the theory that an unstaked tent on a windy day can journey far and wide- eventually finding its way up a pine tree.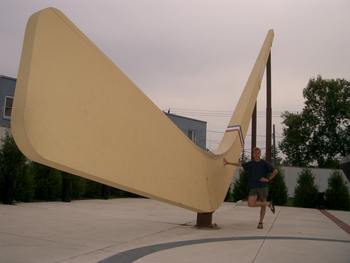 Visiting the world's largest hockey stick in Eveleth, Minnesota.
Days before the canoe trip, my uncle bailed out, leaving us a person short. We called our unemployed friend Liza, certainly she wouldn't have anything better to do than hang out for four days with a bunch of Vertanen men. Well actually we didn't mention the Vertanen men bit, she didn't ask, we didn't offer, it all worked out really well. After rendezvousing at the ranger station in [SECRET], we headed off to the [SECRET] entry point. Kristian and Liza headed out in the first boat, on a mission to secure our favorite campsite on [DOUBLE TOP SECRET] lake. This was a wise move as progress of the main group was slowed by the disappearance of a fishing pole on a portage followed by my Dad and Uncle Dale swamping their canoe.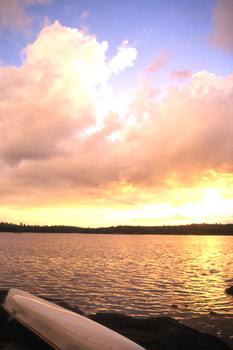 Sunset from our campsite in the boundary waters.
In the run-up to the trip, many a naysayer doubted the "we're going to eat fish- lots and lots of fish" theory of menu planning. To silence this dissenting opinion once and for all, Kristian, Liza and I formed the fishing A-team, taking our canoe straight to the [SECRET]. Now it was midday, sunny and calm- not your perfect walleye conditions, but today was different. They were hammering it, absolutely hammering it. Somebody in the boat had a fish on almost all the time, when my Dad and Dale finally came over to investigate, we were in the midst of a triple play, three fish on, three fish landed. Yes, we're going to eat fish- lots and lots of fish. In the following days, everybody caught fish and so many fish tacos were consumed we had to order in a tortilla resupply mission. Unfortunately by the time Pete and Brent arrived, the fishing had tapered off. Brent managed to find a way to console himself when we accidentally left him alone in camp with what had been a full bottle of Plink.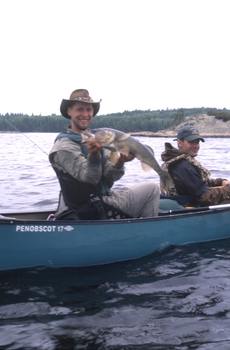 Monster walleye take one.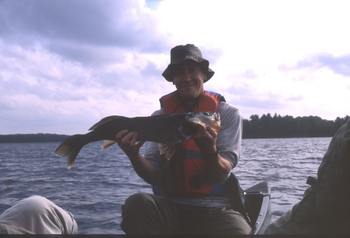 Monster walleye take two.
As Kristian is fond of pointing out, we come to the same lake, fish off the same [SECRET], with the same lure, and catch the same fish. During this trip, the mantra proved especially true. One afternoon, Kristian had caught and released a monster walleye. It was big alright, but an inch shy of his current record on the log cabin fishing leader board. Two hours later, I was fishing in the same spot, using the same lure, and I caught the same exact fish. For me it was a personal best and quite a bit bigger than the record of a certain other person I know.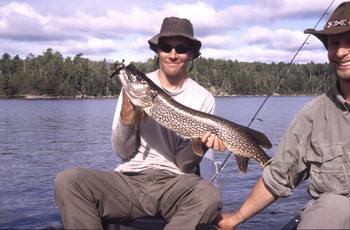 The monster pike that couldn't resist the wobbly lure.
As we headed out of the boundary waters, our canoes cut slowly through the water. This was not only because we were bereaved to leave such a magic place, but more importantly because Liza had hooked a fish on her Zebco fishing rod half-a-mile ago and was still trying to reel it in. Just as we reached the end of the lake, my wobbly lure hit pay dirt- another personal best, this time for northern pike.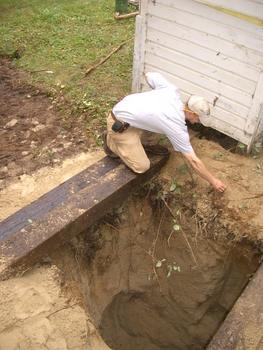 Building the world's largest outhouse hole.
Back at the log cabin, we had time for a little more log scrubbing before Art arrived for the Labor Day work weekend. Our first project was to put in a grey water system, finally putting an end to the wretched 5 gallon bucket. Next up we
dug
what may be the world's largest outhouse hole, 4ft x 6ft x 10ft deep- now that is a lot of poo. According to our estimates, as long as Kristian doesn't get a toilet paper using volume consuming wife, that hole should last until late in the 21st century. We finished the weekend out with a little landscaping and the occasional trip to the woods to hunt the wily black bear.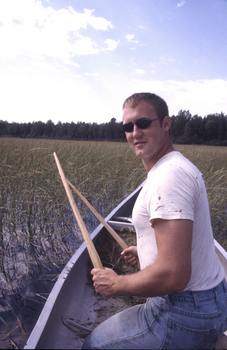 Brent my understudy learning to rice.
No sooner had I dropped Art at the airport in Duluth than I got the call that the wild rice was in. I headed back up north post-haste, spending the next two days as a human rice combining machine. The basic idea is you kneel in a canoe while your partner paddles you through a small lake choked with rice, bending the stalks into your boat with your knocking sticks and raking the ripe rice into the boat.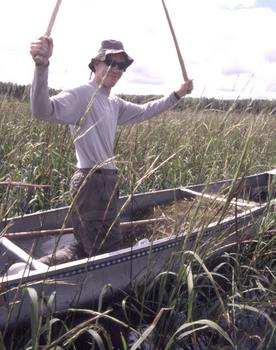 Keith- Lord of the Rice.
As the nights cooled, autumn began to arrive in the north woods. This meant one very important thing, it was time to hunt. I took full advantage of whatever seasons were open in my limited remaining vacation. I took up bow hunting, giving me a chance to deer hunt even though I would miss the main rifle season. I took to the woods, slews, and even a raging whitewater river to hunt woodcock, duck, grouse, geese and pheasant. While success was limited, it felt great to have the old 870 in my hands again, the morning mist rising off the pond, the smell of gunpowder lingering in the air. But all play and no work makes Keith a poor boy, so I headed down to In Time's corporate headquarters near St. Cloud to do some work for a week. We finally got high-speed internet to their house, upgraded their computers and configured things so I could remotely manage their computers from anywhere in the world. I got a lot of work done, ate like a king, and I didn't have to do the dinosaur puzzle once.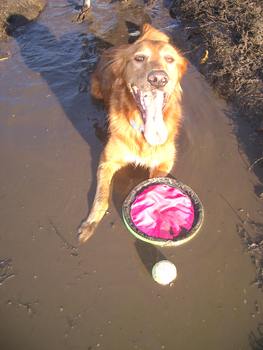 Ches cooling off in a mud puddle at the dog park.
As my sister Melissa was now in labor, I headed straight down to the cities. I rushed down to the hospital, err I mean the coach, flipped on the satellite TV and cracked open a beer. My new niece Kate Elizabeth arrived the next morning and I got to see her on her very first day in the world. I had hoped her head would be neat and pointy like I've heard can happen, but mostly she just looked like a normal sleepy baby.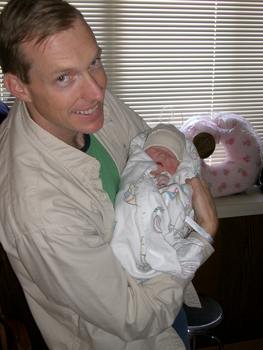 Kate and her new Dad.
With time running out, I squeezed in one last hunting trip- the fabled western Minnesota safari, hunting with a family Kristian knows near Moorhead. There were deer running everywhere and as long as they were female, we could shoot them. Kristian got a doe with his bow the second day. I had several chances, but was never able to get my bow drawn while the deer was in range and without spooking her.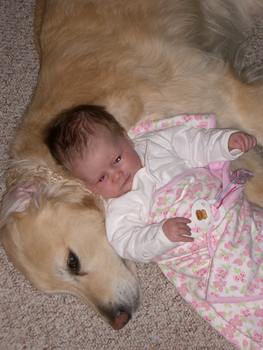 Gillian and the ripper.
I spent my final weekend up in Duluth. Owen had his birthday party on Saturday at the Great Lakes Aquarium and on Sunday Gillian was baptized. With my Uncle-related responsibilities fulfilled, on Monday I flew back to London. On Wednesday, I got my first month's stipend check, phew that was sure a hard day's work. The trials and tribulations of life as a PhD student had begun.