---
Hi all, Well after weeks of planning and equipment preparation, the six members (Art, Johan, John, Dean, Dave, and myself) of the Tasmania expedition piled into Art's station wagon. Our destination: the Overland track in the mountains of Tasmania. The Overland is supposedly one of the best in all of Australia. Our plan was to spend 8 days on the track, allowing plenty of time for lolly gagging.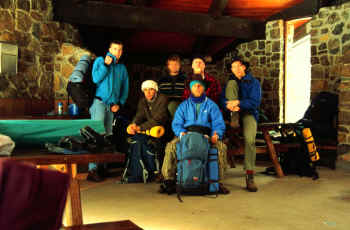 The members of the Tazzie expedition.
After the ride to the ferry terminal (and after we all revived feeling in various appendages), we got on the Spirit of Tasmania ferry for the overnight trip to Davenport. Upon arriving in Davenport, we took a bus to the Cradle Valley, the start of the track. As we gained altitude, it got whiter and whiter. Oh oh. When we told the ranger we wanted to do the Overland track, he more or less just laughed at us. They had gotten an unseasonable amount of snow, there was waist deep snow on most of the track and five foot drifts in spots.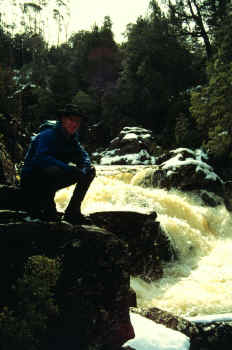 Keith by the river at Cradle Mountain park.
Unwilling to accept his opinion, we took off on several day walk trails to see for ourselves. The trails were wet, I meet W-E-T, wet. It was more like walking in a creek then on a trail. I've got two words for you: Gore-tex boots, gotta have them (and most of us didn't). Even after the walk, most of the group was still keen on doing the track. I remained reserved, I doubted the experience level of several of the group and we all didn't have the right gear (waterproof boots and breathable raingear).
After spending the night in a cooking shelter at the local campsite, the group came back to reality. We decided to abort the Overland track and search for a more pleasant area. It was at this point that our expedition suffered its first casualty, John decided that he didn't have the money to travel anywhere else and decided to take the bus back to Davenport and take the ferry home. The remaining five, along with two Germans who had also planned to do the Overland track, hired a bus to take us from Cradle Valley to Freyinet national park on the east coast of Tasmania.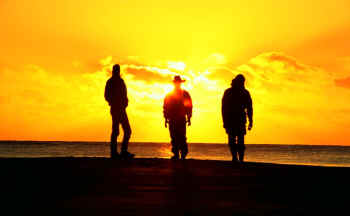 Sunrise after a frigid night on the east coast of Taz.
Freyinet park is a mountainous peninsula with lots of bays and beaches. We camped the first night right on the beach near where the bus dropped us off. The park is very dry and all the creeks are dry as a bone. We had to sneak into this plush eco-tour condo place and fill our water bottles (nobody was around, but there were eggs and toothpaste in the kitchen so somebody was staying there).
The second day we parted with the Germans and later that day Dave sprained his ankle. Luckily he had the courtesy to do so right near a car park. We carried him up the trail and shipped him off in a car headed for Hobart. Now there were four, Art, Johan, Dean and me. We hiked around, climbed some mountains, and saw a group of dolphins feeding off the shore. A wallaby (small version of a kangaroo) got into my trail mix (scroggin as they say here, we have endless amusement with that). Bastard chomped a couple holes in my prized ziploc freezer bag (they only sell cheap gladloc bags here). I could tell Dean (guy from England) wasn't really having a good time. His feet blistered up badly after the first day of walking (10km on easy 4x4 trails, yeez). It's a good thing we didn't do the Overland, Dean wouldn't have survived. Johan the workaholic also decided he needed to get back to study. So after 5 days into the expedition, it was only Art and I that remained.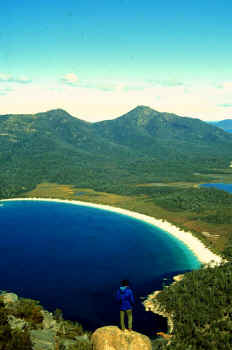 Wineglass bay in Freyinet park.
Art and I spent the next few days walking to the end of the peninsula and back. We ate very well as we now had food for 6 people and had only 2. We climbed the highest mountain in the park and decided we'd seen enough and headed out of the park.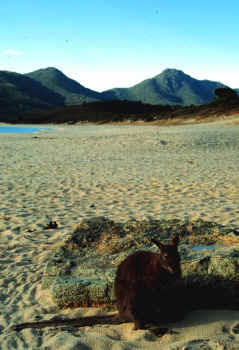 Wallaby on the beat at Freyinet.
We managed to catch a ride out of the park. The driver was headed to Hobart, so we said 'cool, we'll go to Hobart'. Only the driver I guess didn't like how we smelled, so he dropped us off at the first town. Oh well... We spent the night in a caravan park and had a much needed shower. Art and I spent the next week hostelling around the east coast.
We met an American girl up in Bicheno that tipped us off to this hostel down in Lune River, the southern most hostel in Australia. The Lune river hostel is just ace. There is no town nearby, it is just a hostel geared towards outdoor people. They have heaps of walking tracks nearby, a river, and some caves. We spent the first day kayaking on the river. Well I don't know if I'd call it a kayak. It was pretty much a 2-seat covered canoe with kayak paddles. The thing cornered like a sled... But on the plus side we did collect 54 oysters, 1 clam and caught 1 flathead fish.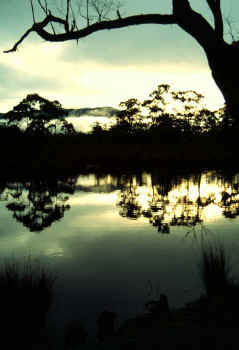 The Lune river outside of the hostel.
We also had Dean, the hostel manager, take us caving one night. He equipped us with helmets, head torches, overalls and boots (this wasn't no tourist cave trip, this was the real deal). We entered the first big cavern of the cave system. Dean told us to sit down on this big rock and turn off our lights. On the ceiling of the cavern are just hundred of green glow worms. It was sort of like looking at the stars. We spent the next 2 hours exploring the caves. The trickiest part was 'matchbox squeeze' where you have to squirm on your side through a passage that is only about a foot wide.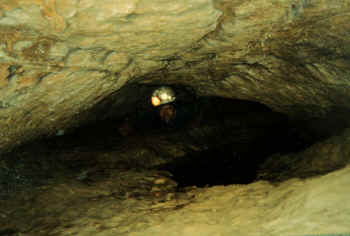 Keith squirming through a tight spot in the cave.
After Lune River, Art and I headed up to Georgetown to catch our flight back to the mainland. Art needed to get back for a test on Wednesday. We had called previously and Promair had told us that they had flights Monday and Tuesday night at 11:30pm. When we called them from Georgetown however, they said they had just received 3 tons of fish and couldn't get us on until Wednesday morning. We got bumped by fish... After an exciting few days in Georgetown (I went to the public library one day), we got our flight. It was a twin engine prop, just Art, I and the pilot. Art got to sit in the copilots seat. This got us to Whelshpool where we caught a lift with a Promair person to a train station which got Art back just hours before his test. All and all, quite the adventure. Not what we'd expected, but then I suppose it wouldn't have been an adventure.
I've got two weeks left before I leave on walkabout. Speak now or forever hold your peace...