---
G'day all, Well after taking my data coms final exam (scoring 111/180, ok not stellar performance, but I passed), I packed up my dive gear and headed north. The plan was to camp for two weeks on Lizard Island, a small exclusive resort island NE of Cairns.
There is not much on the island except for the resort ($600/night!) and the campsite ($5/night!), so I was loaded with two weeks of food and charcoal briquettes. My checked bag came in at 29 kilos, 30 being the max allowed, another 10 kilos I put in my carryon.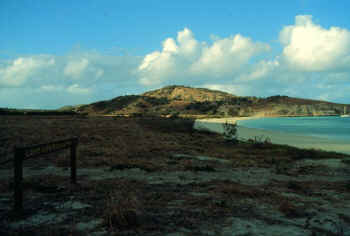 Lizard island sign, near the campsite.
I arrive on Lizard Island at around 3PM. It was hot (85-90F) and sunny. The campsite was a convenient 2 km from the airport, yo taxi! After about an hour of heaving and cursing, I arrive at camp. No one home, I was the only camper around. I dropped my bags, grabbed my snorkel gear and headed for the ocean. The reef was only a brief swim from shore. The colorful fish, plants, and coral were amazing, I had to give a hoot through my snorkel at several points to demonstrate my approval. The reefs was full of these giant clams, some grew to be over a meter across. By touching their shell with my fin, I could make them snap part way closed.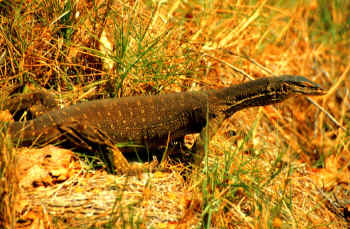 One of the lizards on the island, this guy is one of the smaller ones, maybe two feet long.
I spent the next week snorkeling my days away. I tried all different beaches around the island, the ones right off the campsite were still the best. The reef supports such an abundance of life. There was never a point when there wasn't at least a dozen fish within my view. The fish were amazing, it's like they're all in some big competition to see who can have the best and brightest color scheme.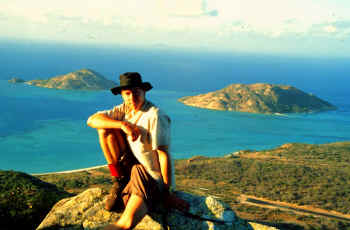 On top of Cook mountain on Lizard island.
After a week, I decided I needed to go diving. The resort dive boat was the only game in town, I had no choice. After they charged me an obscene, no sacrilegious amount of money, we were off to the outer barrier reef. On the hour trip to the reef, we had a school of dolphins swim off the bow. Quite a sight, jumping and frolicking about, wish I'd remembered to bring my camera.
Our first dive was at the world famous Cod Hole. The Cod Hole is an area where the giant potato cod (1-2 meters long) have become accustomed to being fed by divers. We descended to the sand bottom and circled around the instructor who fed the cod with special mesh gloves. The cod have become quite aggressive, they bit the ladies hand next to me thinking she had food or something. It was quite a circus really, I had a big green moray eel swim between my legs (they are fairly blind, they are attracted by the free food as well).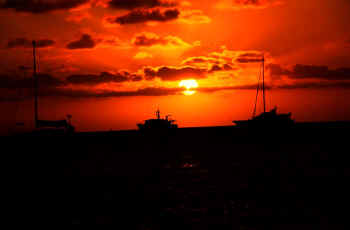 Sunset from my campsite.
All in all, I think the Cod Hole's reputation is mostly hype, I saw plenty of other big fish in more natural conditions. The crew laid out a big lunch of cold cuts and seafood (most of the seafood I couldn't identify, much less figure out how to eat, I decided to stick with the cold cuts and avoid embarrassing myself in front of the resorties). After gorging myself and storing some leftovers in my backpack for later, we did our second dive among the coral, then headed home.
After diving, I decided I'd done all I wanted to do on Lizard island. I managed to get an earlier flight to Cairns, I'm 1009cec4fcositive this is not allowed by my explorer pass, but it felt real good to win one over Qantas.
I spent about a week in Cairns. I got a good deal on a liveaboard dive trip, so I went for it. I spent 3 days and 2 nights on the reef, we did 11 dives total. I saw several sea turtles and a number of reef sharks. The sharks are harmless and small, 1-2 meters. I did get startled by one on a night dive. The shark appeared several meters in front of me and swam straight at me. He veered off just before hitting me, guess he was curious about the lights. Liveaboards like this are the only way to go. In total, I spent over 7 hours underwater in 3 days. I'd try and describe it in more detail, but words just don't do justice. Well with a healthy dose of nitrogen flowing through my veins, I returned to Cairns for the night.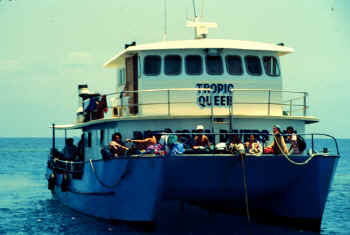 One of Deep Sea Divers' liveaboard boats.
I spent my last day in Cairns white water kayaking on the Tully River. Rafting was also available, but it was more money and you didn't really get to control your own boat. We had a group of about 10 people and 2 guides. The kayaks were two person inflatables. We practiced some safety procedures and then headed down the river. The first few sets of rapids went well, I once again felt the need to hoot...
The guide briefed us on the third set of rapids, we were told to be careful of the first big rock, the river would try and push us into it as we tried to make the turn. We waited for our turn and then headed down. Ok, big rock, no wanna hit it. Ok, left paddle brake, good boat turn. Full speed ahead, no problem we made the, yikes, gurggle gurggle. Boat flip, Keith and Ralph go bump-a-dee-bump down the rapids. This was our only defeat the entire day, we handled the rest of the rapids like champs. Ralph drove the kayak for awhile, but after running up on every rock this side of Cairns, he decided it was best if I drove the rest of the day.
I'm now back in Melbourne until tomorrow when I leave for Adelaide. A group of us are going for the Grand Prix and then I'm heading north to Alice Springs and Ayers Rocks. From Ayers I'll fly to Perth, meeting several other people there. Then it's back to Melbourne to meet my Dad. We'll drive up to Sydney and then fly to Cairns and then fly back to the good old USA. later...