---
Hej!
Here is a summary of my last month here.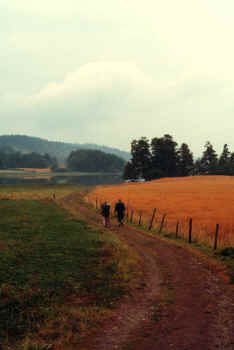 Johan and Joran walking down a farm road.
The first three weeks in Sweden were gorgeous. It was sunny everyday, 25-30C. It rained a few drops on me one morning, but that was it for precipitation. Then one Sunday Johan, his friend Joran, and I decided to go for a hike in the forest south of Linköping. We had just gotten out of the car and put our daypacks on when it started to downpour. It rained vigorously all day and for most of the next week. Opps... It has been much cooler since, 10-20C.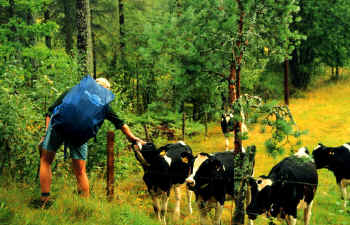 Johan petting the "wildlife".
My Swedish class continued all of August. I made good progress, but still I was well behind most of the other students. Exam day came, but unfortunately, even with the help of the robe of knowledge, I fell 5 points short of the pass mark (but in my defense, a pass is over 70%). I get two more chances at the exam, a standard practice here in Sweden. My next attempt is on October 8th.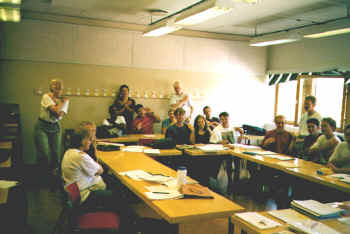 The Swedish class singing the timeless classic: Fader Abraham.
It is interesting to note how poorly the American students faired in comparison to say the German students. Only 1 out of 4 Americans passed, but almost all the German students passed. Of course Swedish is similar to German, plus most other countries teach language from a much younger age.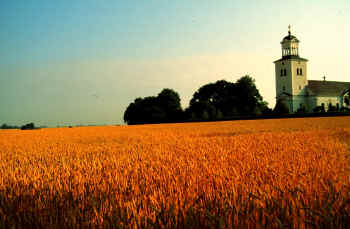 Church and wheat field, spied during a class field trip.
I am now in a course titled 'Sweden and the Swedes'. It is basically an overview of Sweden's history, geography and culture. I am also about to start a graduate course in their computer science department, 'Introduction to Research Methodology in Computer Science'.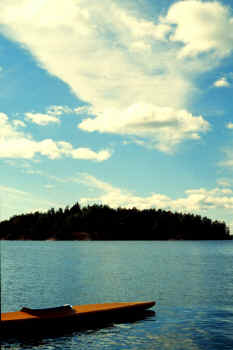 Kayaking on a sunny September day.
I've tried to spend as much time outside as possible before the winter sets in. I've gone paddling a couple times with the Kanotklub. The lakes around here are quite beautiful, dense woods and very few houses on the shores. If it wasn't for the occasional motorboat, I'd swear I was up in the boundary waters. The Swedes do know how to spend a relaxing Sunday paddling. No time pressure, just paddle, stop for fika (coffee and snacks), paddle some more, stop for a leisurely lunch, have a nap...
Last weekend, we had a long 4 day break from classes. Mike (from Oregon), Neil (from Scotland) and I decided to take a bike trip to Gotland, a Swedish island in the Baltic sea. The night before our trip, we changed our plans and hooked up with Thomas from Lithuania. Thomas had just bought a used Saab 900, so we decided driving around Gotland would be much easier. We would dearly regret this decision...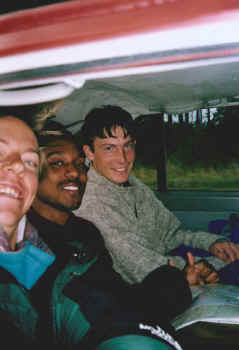 Still able to muster a smile despite overpowering fear.
We're not exactly sure how one obtains a driving license in Lithuania, perhaps they are available in cracker jack boxes. This guy was the _worst_ driver I have ever seen, a true menace on the roads. He combined complete unawareness of his surroundings (mirrors, blind spot, road signs, what are they?) with a complete inability to drive a stick (I could drive a stick better, and that ain't saying much).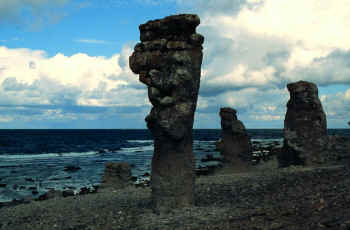 The famous sea stacks on Götland.
We swerved and hydroplaned our way to Stockholm the first day. We toured a ship wreck museum while Thomas picked his girlfriend up at the airport. How exactly he made it to the airport and back without our help is a mystery. We rode the ferry overnight to Gotland. We spent two and a half days driving around seeing the historic and natural sights. We saw Sweden's only show cave, some limestone sea stacks, too many churches, and some stones placed in the shape of a ship.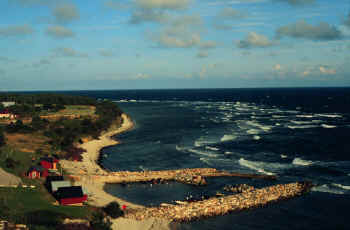 Seascape view from our "campsite" one night.
We camped each night, utilizing what is called Everyman's Right. This allows you to camp for one night anywhere, private property or not. This is a refreshing change from having the cops in the US wake you up at 2am and tell you to move along. Michael and I also tried our hands at fishing, but to no avail.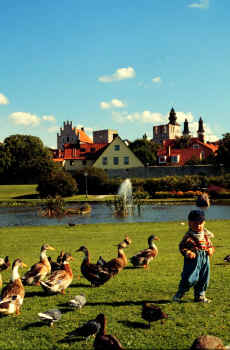 A toddler playing among ducks in Visby.
The traffic was light on the island so we were fairly safe. We did however stop traffic for 5 minutes once while Thomas performed a 28-point U-turn in the middle of the highway. We also managed to get a Swede to squeal his tires and give us the bird, quite an achievement if you know how reserved the Swedes usually are.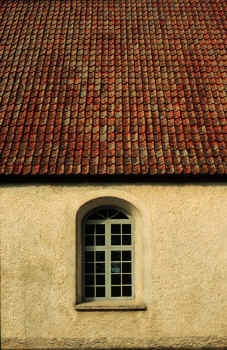 A window of a church on on one of our many church stops.
We took the ferry back to the mainland. The next day we saw a big castle in Kalmar and then crossed the 7km bridge to the other Swedish island Öland. We saw the ruins of Sweden's largest castle and a whole lot of windmills. After 5 days in the same pair of pants (I had packed for a minimalist bike trip), it was time to return to Linköping.
Vi ses! (see you later)