---
G'day, Our story this time begins about three weeks ago. I got it into my head that I wanted to go snowboarding in the Australian Alps. After making a few phone calls, I managed to squirm into a full ski club trip to Mt. Hotham (supposedly the powder capital of Australia).
We left early on a Sunday morning for the bus trip up into the mountains. It is quite an odd experience to leave a place with no snow and drive for awhile and then be in the snow. At any rate, we arrived at our lodge in the late afternoon. The accommodations were hostel style, I was in a room with seven others (I had met a few of them on the bus ride). After a delightful dinner of cold rice with hamburger and vegetables, we all hit the sack, eager for an early start in the morning.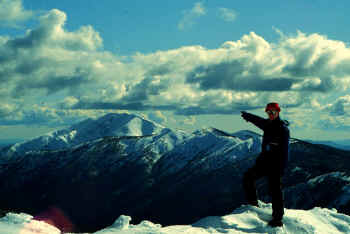 From the ski area, you could see Mt. Feathertop, I'll be seeing you later!
By the last day of the trip, we had seen all of 2cm of fresh snow. In our desperation, Phil, Scott and I decided to do some backcountry riding on a mountain across from the resort. We set out just after the lifts opened. We had serious doubts about the snow quality, but we decided to go for it anyway.
It was a steep grade with deep snow, one had to kick each boot into the snow, very exhausting work. At the worst part, we would travel only about 20m before collapsing to rest. After an hour and a half of climbing, we reached the summit of the mountain. We took some photos and admired the view for a bit. We then strapped in and pointed the boards downhill.
The snow was better than we dared hope, powdery and soft. The first section was a gentle slope through patches of trees, Scott in the lead. I followed, transforming his S curves into figures of eight. Hoots and hollers where sounded by one and all as we enjoyed the snow. We all stopped to regroup upon reaching a steeper and open section that lead the rest of the way down.
I hopped up first, taking the lead. This section was good snow, but the awkward angle of the slope made the riding somewhat jerky. We reached the bottom, each of us grinning from ear to ear. Sure it was only a five minute ride down, but it had been well worth the hike.
We returned to Melbourne and back to classes (contrary to popular belief, I actually do go to class, well usually anyway :)). Pound for pound, the classes here back a lot less punch than classes in Morris though. I have 4 lectures a week (2 hours apiece) and 2 tutorial (TA) sections a week (1 hour each). I spend some time most days in the computer lab working on my graphic user interface project (it's the only assessment for the class). For those computer types in the group, basically what I'm doing is a Motif/X-windows interface for the Unix tar utility. I've got it 75omplete, got all the menus and windows and such, just need to connect it with tar.
For my data communication class, I have to develop a xmodem type protocol that can send and receive files. That project is only for 300f the grade, 70 0s the final (mostly multiple choice, some simple plug and play type problem solving). For my history of photography class, I just have two essays to write. For my Melbourne on foot class, I've done the class presentation and now I just need to do my journal and write a walk of my own. But enough about school...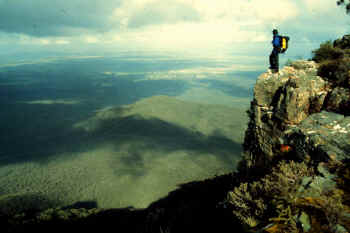 Enjoying the view, Grampians national park.
The weekend after Mt. Hotham, I planned a trip to the Grampians, a national park to the west of the city. We needed to take a V-line extended rail service there. I told Jen and Carlos they should meet me at Flinder St station at ten till 8, since the train left at 8:15 and it might leave from Spencer St station. Well Jen and Carlos come tooling in at 8:13, we took a taxi to Spencer St but we were too late. I was a little bit pissed...
We called Art, an exchange student with a car, he wanted to do something this weekend, but couldn't go until 4PM. I went home and decided to take a bike ride to blow off some steam (I just bought the bike, $169 new from the factory. It works, not as nice as my mesa runner at home, and that ain't saying a lot).
We all piled into Art's car and took off to the Cathedral ranges to the Northeast. We found a campsite off a logging road and built a nice campfire to sit around. A nice evening, good to be out of the city.
The next morning we drove to Stevenson's Falls. We explored around, climbing to the top of the falls and down the other side, crossing back over on a fallen tree trunk. We then drove further into the park to the head of a trail. We hiked along the trail for awhile and it ran next to this mountain Sugar Loaf. Not being the type of people that could resist, we started heading up. We all became separated, some taking the trail, others like myself bouldering up short rock sections. The view from on top was great, almost 360 degrees (I took a series of 6 or 7 pictures rotating around a fixed point). We eventually climbed down, missing the trail and down into some deep ferns. After an extended bushwhacking exercise, we reached a road and walked back to the car.