---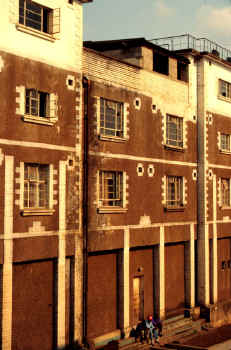 Three men taking a break at the building in from of the YMCA.
Despite being 7pm on Sunday, I was ushered in by the nurse. The doctor looked to be fresh out of some cracker-jack med school and kept asking for advice from the nurse in Swahili. It was all a bit scary, he was obviously nervous, I don't like nervous guys with scalpels. The deed was done, my abscist was cleaned out and I was given a round of the proper anti-biotic for the problem. Neil and Sara headed out on safari in the morning, I decided to wait in Arusha for several days to see how my arm healed. I explored Arusha, repeating the phrase "no safari, have safari" to every local that approached. After a checkup visit with a more competent doctor, I was ready to hit the mountain.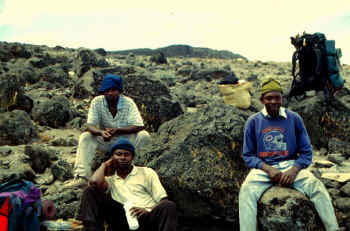 My support staff: a guide and two porters.
You can't just put on your boots and start up Kilimanjaro. You have to hire a guide, the guide requires a porter for himself, and then while you're at it, might as well get a porter for yourself as well. I had paid a company in Arusha to make the arrangements, around $600 for a six-day trek, plus another $100 to cover the Visa surcharge (don't use credit cards in Tanzania!).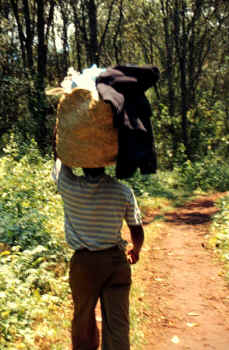 The rough terrain this guy covered with this basket on his head was amazing!
I decided to climb the Machame route, a more scenic alternative to the standard "coca-cola" route (called this because you can purchase coke and beer at the huts on this route, though the price varies proportionally to the altitude). The safari company had said there were two other Americans on the trek with me, but apparently the Americans had decided on another route (or didn't exist at all). After a bus, a crammed minibus, and a 45-minute walk, we were at the trailhead. You get what you pay for I suppose, and I had paid the minimum I could find.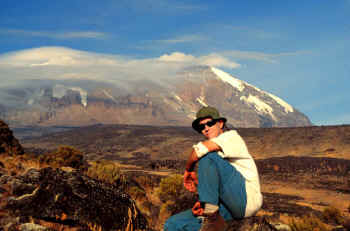 On a little pre-dinner hike, Shira plateau.
I had the flu or something that day, I was feeling awful before we even left Arusha. I would have delayed the trip by a day or two if I'd known I was the only client. I started taking Diamox, an anti-altitude drug, figuring I was going to need all the help I could get. Diamox is a diuretic, in the six hours we hiked that day, I drank 4 liters of water and it just went right through me. Leaving your warm sleeping bag three times a night is a bit annoying.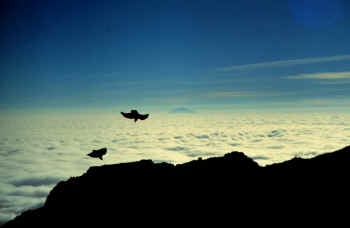 Birds sailing on the thermals at high camp, Mt. Meru in the background.
Though I wasn't overtly hungry, I ate a big dinner of pasta accompanied by sunset above the clouds. Turned in at 7:30pm, not much nightlife up here. We spent the next day traversing across the south-side of the mountain. Our highpoint was 4500m (14,700ft), but we dropped back down to camp at the Barranco hut, 3950m (13,000 ft). The walking is easy, but our pace is slow, like a funeral march. I'm able to keep up with the porters, but I'm not carrying much.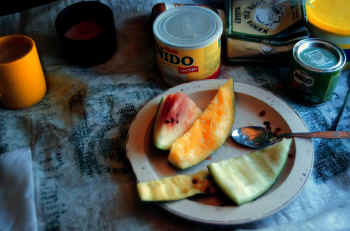 A nice snack of mellon at 14,000ft, now this is mountaineering!
Another pleasant day hiking, on the flat portions the guide Brenda would whistle or sing church hymns in Swahili. We reached the Mweka ridge and headed up to our high camp, the Barafu Hut 4600m (15,000ft). The altitude was now starting to hit me, I was feeling nauseous when we arrived at the hut. I felt better after eating my daily snack of popcorn and peanuts. My legs were stiff but pain is temporary right? I can see our ascent route to the summit, it looks steep, it looks long. Just put one foot in front of the other, repeat. Nothing left to do but to do it.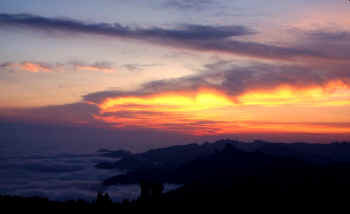 Sunset the night before the summit bid.
Initially the route was fairly easy, but it quickly turned steeper. I followed Brenda and tried to keep up. With this little oxygen, it is amazing how easily you tire. All I could think about was sitting down on the next rock and taking a break. I did have to take numerous breaks, but Brenda would only let me rest 2 minutes saying "After 2 minutes, you lose power!" Mentally tough, physically strong.
Up, up, up. Headlights illuminating the rocky, scree path. Damn I'd kill for some good solid snow steps. My hands and toes were getting numb. It wasn't that cold, the air was calm, but with the lack of oxygen, your body simply has trouble keeping warm. Wiggle your toes and fingers Keith.
Nobody going to break my stride, nobody going to slow me down, oh no, I got to keep on moving
Doesn't this thing ever end? Every time we crest, I think we are nearing the top, but ever time another hill appears looming ahead in the pre-dawn twilight. Another wave of sickness, Brenda puts his hand on my shoulder "Vomiting, vomiting is no problem. Do you have sunscreen? You should put on some sunscreen." Sisu.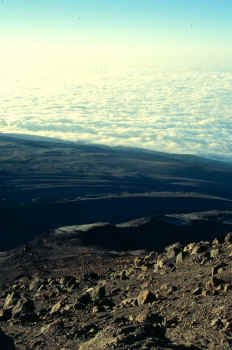 Looking down the route to the summit, high camp is down in one of the saddles.
The glowing yellow circle in front of me, grew dimmer and dimmer. Time to change batteries in my maglite. My actions were slow and deliberate, but no fumbling, a good sign. Wiggle those toes and fingers, can't forget! Up and up we climbed.
Ichi - ni - san - shi -go -roku - shichi - hachi - kyu - ju.
With each step, one Japanese number. I pretended my old sensei from Morris was standing next to me, calling out the cadence. I did this again and again, for hours. Ichi - ni - san - shi -go -roku - shichi - hachi - kyu - ju.
The rock turned to snow, I finally had semi-solid places to step. I powered up with newfound energy. We crested the ridge and arrived under a large overhanging boulder. "Welcome to Stellar Point!" Brenda announced. Alleluia! This wasn't the summit, but from here it was an easy 30 minute walk in the park to the true summit.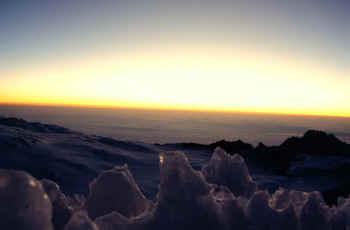 Predawn glow from the top.
We followed the snow trail, the pace still slow but the grade was much easier. We arrived at the top of a small snow hill, we could go no higher- "I'm on top of the world, looking down on creation"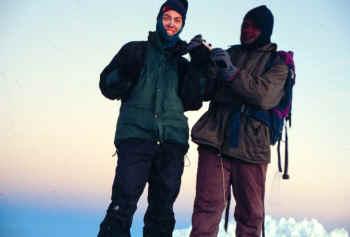 Brenda and I on the summit with the obligatory pack of Mentos.
It was still before dawn, the first glows of sunrise could be seen along the cloud line that surround the mountain. I got out my camera to snap some photos. The lens was stuck, but I managed to free it up, albeit temporarily, by breathing onto it. We were the first on top that morning, but we didn't stay long. All I could think about was getting down to where the air was thicker.