---
When we last left our heroes, Katy and I had just been robbed by an unknown assailant in the woods of Zambia. The next day, we had been told to report back to the police stations just across the border. Well we had firmly established the previous evening (in an attempt to partake in a boat cruise across the river) that the Zimbabwe border guards were not letting Keith out of Zimbabwe without a passport. Katy still had her passport, so she went in the morning to see what news there was.
Double rainbow at Vic Falls.
I spent the day exploring the park by Victoria Falls with Neil and Sara. The falls are quiet magnificent, it is not like Niagara Falls where you have just a few main falls dumping huge amounts of water. Vic Falls is very spread out, hundreds of small waterfalls dot the cliff for maybe a kilometer. It was now officially hot, the spray from the falls was a refreshing way to cool down. It was a new experience, I was camera-less for the first time ever. Just had to appreciate the falls with my own two eyes. There were no rainbows to be found that day, the sun must have been too high in the sky.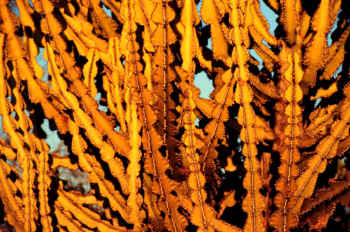 Large cactus plant.
The police commissioner talked to be on the phone, he really wanted us to attend the trial. He said they "had to waive certain rights", but in order to expedite the return of our stuff, they were going to try the boys the next day. We were due to leave the next day, but fortunately there was a night train we could take to catch back up with our truck. The trial was an interesting experience. Everything was translated into English, so we could understand quite well what was going on. We watched several other cases go before the court, the defendants had to represent themselves as best they could, I guess lawyers are only available to those that can pay.
Katie and I only had to testify if the man we saw decided to plead not guilty. I reminded the police officer that I couldn't identify the guy, "oh no problem, he'll be the one on the right." He choose to plead guilty, his sentence we were told would be around 3-5 years. The sentence had been reduced in order to try him at this lower court, otherwise he would have had a minimum of 15 years. The boy was 17 years old, just a kid. I'm glad he got a reduced charge, maybe he can still turn his life around.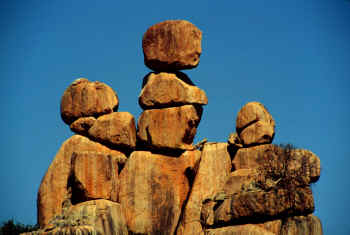 Can you find the face in the rocks?
The next morning we arrived in Bullawayo and rejoined our Truck. It was time for a day safari out to Rhodes national park. This was great, no sooner had we gotten inside the park gate then we saw two rhinos. In this park, you are allowed to approach the white rhinos only if you are accompanied by a trained guide. We got within 100 feet of these giants. They were pretty mellow, I'd hate to be around if they were in an ornery mood. Black rhinos are suppose to be much more aggressive, you can't get that close to them.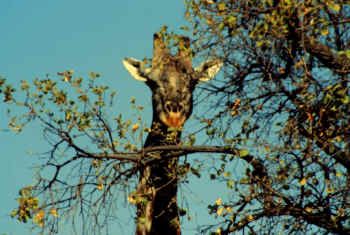 Out for a little afternoon snack.
Our truck tour was winding down. One of our last stops was the Mopani horse camp in Zimbabwe. Honestly, I don't think I've ever ridden a horse before. The camp instructor said that playing 'polocross' was the perfect way to learn. You divide into two teams, everybody has things long sticks with baskets. There is a goal on each side of the field, you try to throw the ball into the goal. There are other rules like only the offensive player is allowed beyond a certain points, etc. My steed was Chief, he was big, but he wasn't so fast. One of the instructors kept telling me to kick him harder, but I was afraid I was going to hurt the poor guy. The whole game would grind to a halt while I tried to get Chief to take me to the offensive front-line.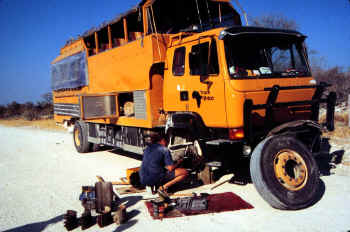 Richard putting on some new brakes. Now that is one bad truck!
From the horse camp, it was on to Harare, the capital of Zimbabwe and the terminus for our Truck Africa adventure. We had a couple farewell dinners, the final one involving a delicious game platter of ostrich, kudu, zebra and wildebeest, oh baby! No more of the simple carefree life of an organized tour, Neil, Sara and I were now responsible for figuring things out ourselves.