---
I arrived in Madrid early in the morning. It was nice to be only staying for a day since that allowed me to just put my pack in a locker at the train station and hit the streets. I was a little worried about the heat, Lonely Planet had said "if your crazy enough to come here in the middle of summer you'll find most of the population has headed to the coast". It was cool in the morning anyway.
I headed out on Lonely Planet's walking tour, winding through the quiet early morning streets. Found a shop to have some coffee to wake me up (no cappachino, boo). Found a nice square and added some nice photos to my coffee table book project: Windows of the World.
By noon, it was starting to heat up. I headed to some of the city parks to laze in the sun and try and finish Crime and Punishment (I had been reading it since Moscow and punishment is a good way to describe it). I felt like taking a nap since I didn't sleep much on the packed night train, but I was afraid I would wake up in only my underwear after the thieves were through with me.
The mercury topped out at 39C, I didn't think that was so bad until I used my Lonely Planet to convert it to Fahrenheit, 104?!?! Ay caramba! Towards dinnertime I was feeling sick and weak, oh. I was obviously dehydrated, so I guzzled all the water I had, ate a banana and found some more water. Once I had recovered enough, I headed to a bocadillo shop to have a sandwich and relax in the cool air conditioning.
My next and final destination was Paris. There was a nice direct supplement only night train from Madrid, I was going to splurge and pay it since this was my last night train (in a very very long series). When I found out it was 9000 pesetas ($60), I just couldn't do it, I had to take the longer and indirect train for free, budget principles die-hard.
I arrived in Paris by 3pm, by 5pm I had negotiated the Paris transit system to arrive at the incorrect RER station. David and his friend drove over to pick me up, great to arrive somewhere and not have to play "wish I had a friend." David's parents were gone on vacation, so it was party time. First priority though was a much-needed shower and a reunion with the clothing I had cached here in May. Finally I was able to stop wearing the Moscow shirt Neil had bought me, my other two shirts had been ripped to shreds by now.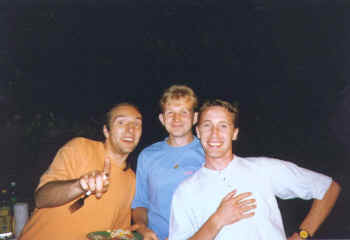 David, Phillip and David.
I had a nice dinner out on the lawn with David and his various French friends. I taught some of them a little American diversion, hacky sack (actually sepa sepa). It wasn't long before the musical instruments started coming out: guitar, harmonica, saxophone, we had a whole band out there playing. Most of the songs were in French, but I didn't really care, beats wandering around museums and monuments playing the tourist game. Eventually the porch was cleared to make room for David's Disco, the neighbors were probably not very happy but sometimes you have to crank cool Minnesota artists like Prince (or the artist formerly known as Prince, or the artist formerly known as Prince but now known as Prince again, or whatever the hell).
This was my forth time in Paris, I had long ago been to all the "must-see" tourist sights. I picked up a few that I had overlooked liked the beautiful opera house and Le Grande Arche de Defense. If nothing else, it proves that no matter how long you have been in Paris, there is always something else to see.
I packed up all my gear one final time. With David's help, I managed to get everything on the Geneva bound train. My flight left the following morning at 7:30am. I decided to take the last train from Paris to Geneva (on the high-speed TGV, unfortunately not the double-decker one), and then head to the airport the night before. I figured by time I got a room, I would only get four hours of sleep and then would have to drag all my stuff to the airport, probably by an expensive cab ride.
I had envisioned Geneva International to be a little bigger than it was, it fact after 11pm there was not another flight out until the morning. I set up camp on some incredibly hard waiting lounge seats. A guard came around and asked in broken English whether I was sleeping here. Well, errr, yeah. He was cool about it and let me stay, I had visions of me and my bags out in the airline parking lot until morning. I managed a little sleep, balanced on my seat and the pile of baggage.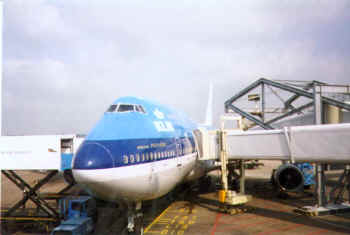 My 747-400 freedom bird.
After a fitful sleep, it was time to go. Here is the last excerpt from my journal:
So this is it, the final journey, one more seat to ride in and I'll be home. Perhaps it is time for some reflections or conclusions, not sure what they'd be though. If nothing else, I've broken 'Europe' into a bunch of separate entities and not one big hazy blob. Is my wanderlust satisfied? Yes but for how long?
"Live free in harmony and majesty, take me home, take me home."