---
After waking to the Matterhorn and returning to Zermatt, I grabbed the rack railway back down out of the mountains (if that is possible in Switzerland). I traveled onward to the city of Lussane on the shore of lake Geneva via the Italian Pendolino high speed train. The Pendolino was my favorite of all the European high speeds, it went really fast, it had big cushy seats, it had power winder shades, and best of all the Italian conductor didn't hassle me about the "obligatory reservation".
A sunny and warm day again, I headed to an art museum, but not just any museum. This was L'Art de Brut, art created mostly by mentally disturbed people. It was at times beautiful and profound, and at other times sick, spooky and just plain bizarre.
I was heading for a night train connection in Geneva, but rather than arrive early and kick around in yet another city, I took a slow boat cruise on the lake for 3 hours. My excitement was already building for my pilgrimage to the little and often overlooked country of Andorra. Sandwiched between Spain and France, this little tax-free shopping paradise boasts plenty of mountains and winding roads for those not interested in saving a few pesetas on a stereo or camera.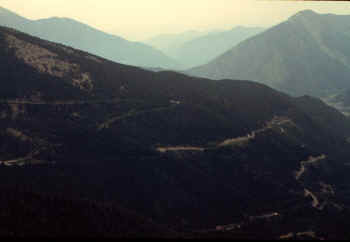 Switchback mountain roads leading until the promised land: Andorra.
But first, I had to get there Ah yes, another night train. I almost ended up in Barcelona, luckily a conductor pointed this out at the 1:30am ticket check and I switched to the proper car. I had aspirations to do a trans-Andorra hiking expedition on one of the long distance trails through the country, but this dream was scrapped due to lack of a map, luggage lockers, and high temps. After two hours playing hearts with some other backpackers at a train station, I got on a two hour bus ride to the main city of Andorra.
On the bus I discovered that I had hit Andorra and the perfect time, tomorrow the Tour de France would be coming through, keen. This also meant that finding a room would be impossible, so I opted for the gore-tex coffin (bivy sack) at the town campsite (and even here I had to pay over $10 a night, wow you mean I get this whole square meter of grass for only $10?!?!?). I turned in at my usual camping bedtime of 8pm, good thing I had my Ear Defenders 6900 (35 decibel reduction, except no substitutes!) to block out the TV noises coming from the RV section of camp.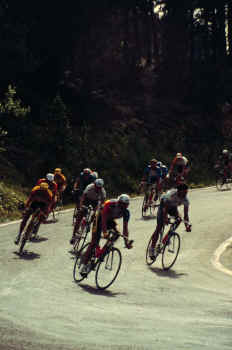 Tour de France bikers flying around a hair-pin church.
I decided to combine a hike up to a mountain peak with spectating along the Tour de France course. I slogged up hill, sweating buckets and buckets. It was a nice forest walk, though my tourist info map left much to be desired in the area of resolution and clarity. I made it to the tree-line but decided I was short on time and energy, so I just headed back down to the highway to wait for the race.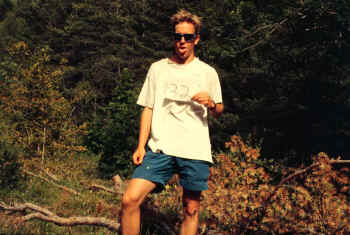 Day #32 on trail, I think that is enough for the year.
The Tour de France is a real circus, never seen anything like it before. I was situated on a downhill hairpin turn. Preceding the race, hundreds and hundreds of support vehicles drive by, with the road to themselves everyone drives like they are in a eurosport road rally. You then have a big parade: there were cars shaped like Disney characters, giant golf balls, cellular phones, you name it they found a way to attach it to a car and then drive it like a madman (I could just see the headlines: "American backpacker killed by out-of-control giant Goofy").
Eventually the actual people on the bikes started to come by. A few bikes would whip around the curve, followed by a group of support vehicles battling for position, then another pack of bikes. It was cool to see, but it was over before you knew it. These guys ride hard that is for sure. Didn't see any sign of the US team, apparently they were sponsored by the US Postal Service, hmmmm
I left the following morning on the first bus out of Andorra. We almost got stranded due to a Tour De France road closure, but at the last minute the cops decided to let some more cars through. A short train trip and I was out of the Pyrennes mountains and in Barcelona Spain.
I had met a few American girls on the train and we were busy using two pay phones trying to find a hostel or pension with space available, Barcelona is on the main tourist trail and this was prime time. Some strange Spanish looking woman who was speaking French was hanging around asking how to use her phone card. As it turns out, she was a decoy and one of the girls got her passport, money and railpass stolen from her backpack (sort of her fault for not keeping that stuff on her person). Not a great first impression of Spain though.
I eventually left the girls as they were busy filling out police reports and making phone calls. I had trouble finding the pension I had found a room in. With the help of a security guard, I got to the right street but just couldn't find the place. I called from a pay phone and had an amusing conversation trying to obtain the street number in Spanish, Donde esta? Que numero? The nice old woman was happy to see me when I finally found it, I even managed (I think) to explain to her that my two American amigas would be coming despues since they were busy talking to la policia.
I spent the rest of that day and the following day wandering about Barcelona. It was hot and sunny, I mostly just stopped and read a book in shady spots. I took a beer on the main walking street, watched the people go buy and read up on my Spanish in the Berlitz dictionary I bought. Spain was really the only country in all of Europe where knowing the language is really necessary.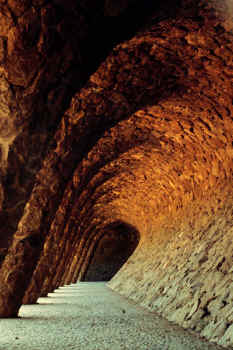 Wave like tunnel sculpture in a park in Barcelona.
It was only my second day in Spain when I was almost robbed for the second time. This time I was coming up the escalator out of the underground. A Spanish youth in front of me pretended to faint at the top of the escalator, of course I instinctively grabbed onto him. Meanwhile his two accomplices were taking a stab at my wallet in my back pocket. Of course only a fool would carry a wallet in their back pocket, it is an easy target. Mine was primarily a decoy, containing lots of library cards and business cards, only about $20 in cash. I felt the hand on my pocket and foiled their attempt, they were really bad pick pockets. I exchanged some American "pleasantries" with my Spanish amigos, they even knew a few in return.
People often ask me if I was worried about getting stuff stolen while I traveled. With the exception of these two days in Barcelona, and the bike light I had stolen in Sweden, I've never had a problem. I've left packs sitting in hostels unprotected for more days then I can count, nobody has touched a thing. It was disappointing to see the amount of crime against travelers in Spain, downright disgraceful.
After spending the rest of the day keeping a watchful eye on my "six", I boarded the night train to Madrid...