---
Fed up with the Austrian weather, Venice seemed like a good place to go. The only direct night train was supplement only (i.e. you must pay in addition to the railpass) so I used a combination of 3 trains. I met a couple of Swedish backpackers with the same destination in mind. The highlight of the trip was spending 1-2:30am waiting at a train station in the freezing weather. It was July and I was wearing my long underwear and my stocking hat, shivering on a metal bench.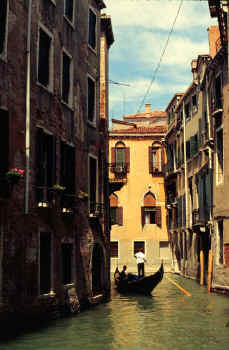 It took awhile, but a gaundola finally came by.
We arrived in Venice; I was busy checking my pack when the Swedish backpackers disappeared without as much as saying bye. Guess I'll tour the city myself then...
One of Venice's greatest charms is getting lost in its winding streets and canals. I had to temporarily turn off my innate navigation abilities, but I managed to get completely lost. Had a little breakfast in a plaza, tried to take a much needed nap, but the locals were giving me strange looks, so I decided to move along.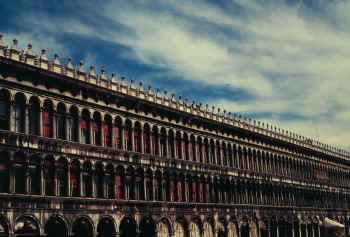 Building along a big square in Venice.
Eventually I happened upon one of the main canals and was able to figure out where I was on the map. I headed to the main piazza, San Marco, one of the most famous squares in the world. Nice place, but crawling with tourists. I wanted to climb the campanile tower, but I refuse to wait in a queue for anything (aside from the Swedish post, there you have no choice).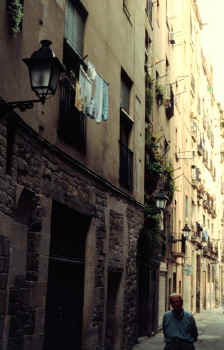 Italian man on a stroll in the back streets.
I spent most of the day just wandering the streets and canals, nice to have no cars or mopeds trying to run you down. Had a couple helpings of gelati and bought a cheap but beefy pair of blue "space" sunglasses (still wearing them too, against most people's fashion advice).
Tired of the travelling rat race, I headed on a three-hour train to Milano to stay with my friend Antonio (who had just arrived the day before from Sweden). The Italian conductor charged me the extortionist price of 22,000 lire ($15) to ride on this piece of junk train in a car with broken air conditioning, had to stand in another car to prevent heat exhaustion.
I arrived right on time (Italian time that is, 30 minutes late). Antonio took me to his brother's old apartment where we'd be staying. I spent the next two days in Milano hanging out with Antonio and his friends, an interesting glimpse into Italian culture, much better than the tourist game. I really enjoyed relaxing for a few days.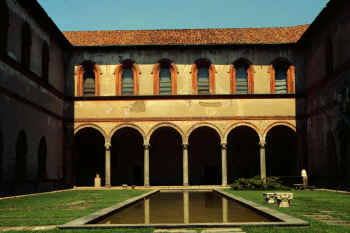 Plaza at a university in Milan.
After starting the day with the best cappuccino in the world, we went to Milano's gothic cathedral and went up to the roof for a good view of all the intricate stone work. We met Andreas and Ricardo (two other Italians who studied in Sweden) for pizza that night, the quatro formageo was excellent.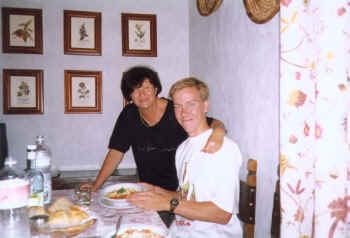 Momma's pasta!
Antonio's mom was great, not only did she do a load of my laundry (the first since Moscow), she made us gnocchi (potato pasta) for dinner. Oh baby, going back to sam's club spaghetti will be hard. After a final cup of cappuccino at the local shop, Antonio brought me to the train station. Chow och vi ses!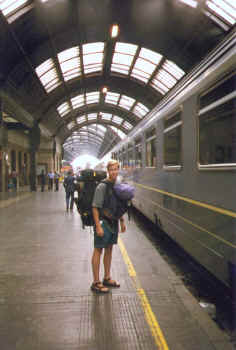 For many months, this is how I travelled.
Well three days in the city were enough for this country boy, so I headed to Zermat Switzerland for some more hiking. I organized my food, fuel and map (the most expensive map I've ever seen, $20). Rather than spend a night at the campground in town, I headed up the trail climbing 1000 meters in a few hours. Found a nice alpine meadow to camp in, a quick dinner and then in the bivy sack before the rain started down.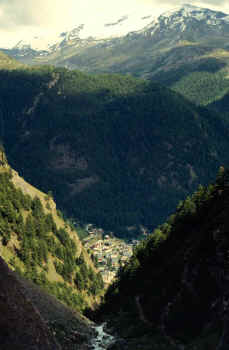 Look back on Zermatt from the trail.
To my surprise, it didn't rain that much. When I woke in the morning there was frost and ice on my pack, but the sun was actually shining and soon warmed me right up. Another uphill slog before reaching a pleasant flat portion paralleling the valley. It was still misty in most directions, no vistas yet. I sat down on a convenient park bench and munched some gorp. A few minutes passed and I glanced south and there in a break in the clouds was the Matterhorn! What a peak, tall and sharp, I real mountaineer's playground.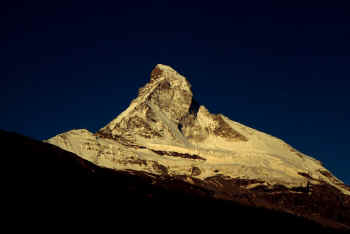 Wow, what a mountain!
From that point on, things just got better. The clouds lifted, I enjoyed warm sun and outstanding vistas all day. The Matterhorn was a quiet guardian on constant vigil. It is days like this that make the pissy days worth it. I took my time, stopped and munched my more than ample food supply whenever I cared and basically took in my local.
After a diversion towards this mountain hut beside a glacier, I headed back down towards Zermatt. I didn't want to come out late in the day, why camp (and pay) in the downtown campsite. I found another alpine meadow, ate dinner and took a 10-liter dry bag shower, laid in the sun on a rock while I dried off.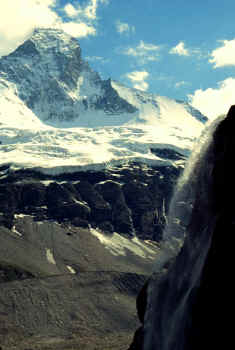 Waterfall with the Matterhorn in the background.
During the night, I woke up at 2am to check the night photography possibilities. Perfect, starts were ought with a silhouette of the Matterhorn in the background. I poked my head out into the cold night air and setup up the camera gear. I planned a 30 minute exposure, but my watched didn't wake me back up, ended up as 2 hour exposure, not sure how it turned out yet. I woke again in the morning, warm light illuminating the Matterhorn, what a campsite! Reluctantly, I headed down out of the mountains and back to the tourist hordes, all waiting to take the next $60 cablecar ride up to "see" the mountains, hmmmmm.