---
Hej!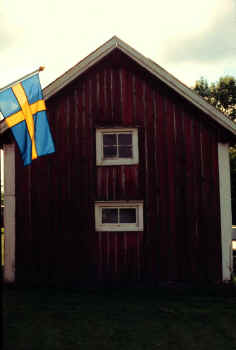 Swedish flag flying in front of Johan's grandma's barn.
There are quite a few other international students here. I think around 40 right now, more are coming at the end of August. They are mostly French and German, a few odd Americans, a Lithuanian and a Czechian (?). We all live in a student housing area called Ryd. I have my own room with a private bathroom and shower. I have more closet space then I have stuff to put in them. There are 7 other rooms in my corridor, with a shared kitchen and living room. Only one of the rooms is occupied right now, by a Swedish student Per. More students will start moving in a few weeks from now.
Most of us are taking the four week intensive Swedish course. We have had 6 days of it now, about 5 hours a day. I am having quite a difficult time since my brain doesn't seem to absorb information very well, I think it is full. I can't pronounce any of the words, and I can't usually understand what the teacher is saying most of the time. A lot of the other students have studied Swedish before so it is a bit unfair. It is a good thing all my courses are in English and everybody speaks English very well. I'd like to be able to read it though, I have to take my dictionary every time I go shopping.
The prices here are certainly as expensive as their reputation. A loaf of bread will cost you around $2, gallon of gas $4, a can of coke $2 (and they are smaller than our cans!), beer at a pub $5, lunch at the campus restaurant $9, pack of 100 index cards $5 (they better jump out of the package and dance for that price).
Another American, Michael, a brit Rob, and I went to a crawfish party at some Swede's flat. It was great, we had a first course of Swedish meatballs, an egg dish, some beats and some sausages. Then the star attraction arrived, a big basket of crawfish. They taught us the method of sucking out the salty juice and how to dissect the crawfish to get at the tasty meat. Mmmmm, good.
Hej då!