---
Life goes on in Melbourne... The weather has become more like what we were told to expect, cold (by their standards) and rainy. It is quite strange, it can be sunny one minute and then downpour the next. My goretex jacket and waterproofed backpack are coming in handy.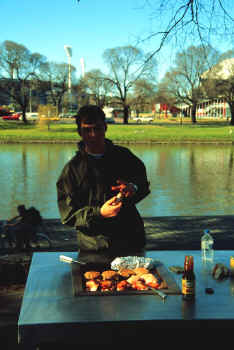 Brian working the public BBQ along the Yara.
Two weeks ago, RMIT held a student club BBQ. It was suppose to run until 2PM, but when I arrived at 1 they were already cleaning the grill :(. I did talk with the outdoor pursuits club, the snowski club, the underwater club, the waterski club and the parachute club (parental note: I decided against jumping out of airplanes, it's too bloody expensive). The outdoor pursuits people were abseiling (repelling) off building 12, so I decided this would be a cheaper fix. It was a 47 meter drop, longest repel I've done. Really wasn't that exciting, guess I've done it too much. In hindsight, I should have asked Nick the instructor to set me up Australian style (face first), I'd like to learn the proper setup.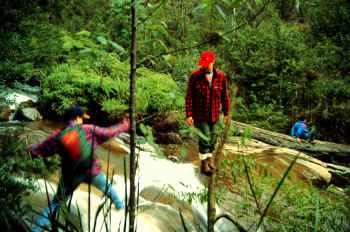 Johan "helping" Jen cross a river on a hiking trip north of Melbourne.
The following week was rather uneventful, save for Johan and I started going to Aikido classes. I've been to two classes so far. It is a very different martial art than the Shodakan style I practice at Morris. The whole basis is that whatever the attacker does, you simply make your body agree with theirs. Everything is done by using motion paths that the attacker can't resist. Errr, it's kinda hard to explain. I like it, though I'm not sure how well my two forms will complement each other.
Last weekend was full of activity. Friday, Johan, Jen (another exchange student from Indiana), and myself decided to go to the Dandenong ranges. Due to unfortunate rail and bus time schedules and a few mistakes on our part, it took over four hours to reach the town of Olinda near the scenic overlooks.
We hiked for several hours, visiting several smaller overlooks, before arriving at the main Dandenong overlook. The view was big, you could see the skyline and the urban sprawl (not exactly a sierra club calendar shot). It was quite hazy, so we waited and watched the sunset and the lights come on from the city and suburbs. We caught a ride back to a train station with a young Aussie couple and made it back to Melbourne in about an hour and a half.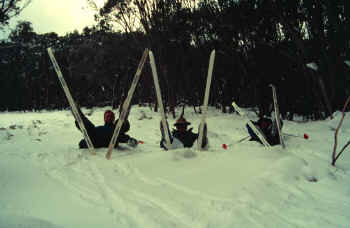 Richard, Naoemi, and I taking a little break.
Richard really knew what he was doing so I wasn't scared. Half-way up the mountain they made everyone pull over and put chains on their tires. Seemed really silly to me, the remaining stretch of road was just wet with a little bit of slush. I guess the chains forces everyone to drive slow since most have no experience driving in bad conditions.
It snowed off and on all day, giving the trails a fresh coat. It was not the kind of skiing I'm use to though, there were probably several thousand people roaming around a rather small set of trails. We got tired of the trails so we used Richard's compass and did some cross country orienteering. For awhile it was really fun, but eventually we got into some bush that was too thick. We struggled back to the trails and skied in.
Until next time America...