---
Hello all! Well I made it back safely to the states. No bombs actually exploded anywhere near me and I was a country or two away from the war in the Congo. Hopefully things have calmed down over there, but I have no way to know, the US media is now in 24 hour/day Monica coverage. Oh well, should be over in a year or two. We survived OJ, we'll survive this. Actually I arrived several weeks ago, I have just been neglecting my trip update responsibilities, for some time. I'll send out reports as I get them finished. I'm on my way back to school in Oregon on Tuesday. Look forward to hearing from you.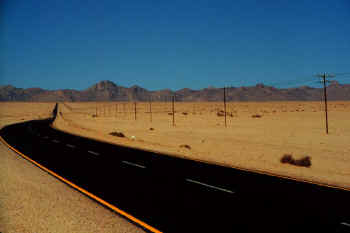 The road got a little exciting for a bit, check out that curve!
My last update was from Fish River canyon in Namibia. After the canyon, we drove north and east towards the coast. We drove on a nice paved road through the vast barren landscape. The land on both sides of the road was diamond mining land, trespassers shot on sight. We camped on a Shark island, a rock island on the coast. I found nice rock to sit on, sipped a beer, and watched the sun set over the ocean. Home was about a zillion miles that-a-way.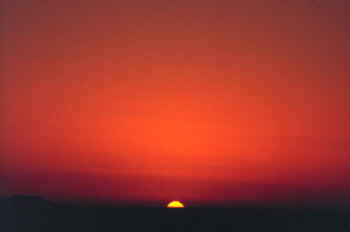 Going, going, gone.
After finishing a typical breakfast of cereal and toast, I was feeling quite energetic. Too much sitting on a big yellow truck I guess. So since we were on a rock island, I figured there must be a boulder problem to work on somewhere. Turned out to be a nice over-hanging problem right in front of the truck. It took about half-an-hour and I scratched my hands to hell, but I sorted out the sequence; step, step, reach, grab, swing, heel hook, mantel, awwww made it! I was allowed to revel for about two seconds, then a sea gull shat in my hair.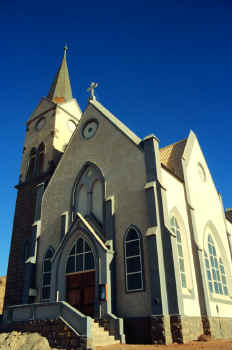 German church in the town.
We drove just outside of town to Kollmunshap, an abandoned diamond mining town. The town sprung up during a big diamond rush. At its height, you could walk into the pub and pay for your drink with raw diamonds. It was said you could go out at night and collect diamonds by picking up anything that shimmered in the moonlight.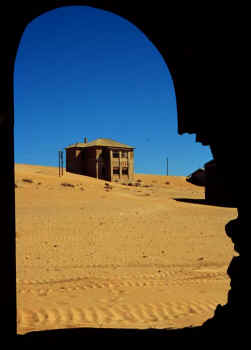 Peering through a hole in the wall.
The town as been reclaimed by nature. Sand dunes have replaced the streets, sand invades through the broken windows, covering the floors with their wind swept ripples. The place was excellent Windows on the World material, I wandered through building after building, looking for the ultimate photo.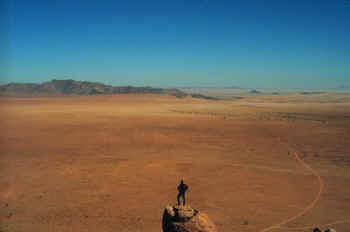 A whole lot of barren land, vast.
We had a free morning before we had to hit the road. Neil, Sara and I headed out into the dry landscape, following the white painted footprints that denoted the "trail". We reached the top of a ridge, from here we could see for miles, a huge plain stretched out between the mountain ranges. A thorough binocular check revealed no big game roaming about unfortunately.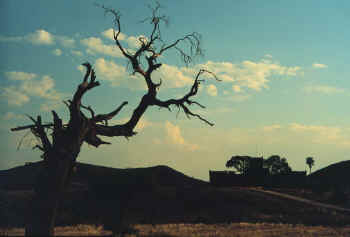 A castle in the middle of the desert, very strange.
We drove north in the afternoon, stopping for the night at a campsite at Duswig castle. Some german has settled here and had shipped in materials to build a little castle. Completely random, a castle in the middle of the desert.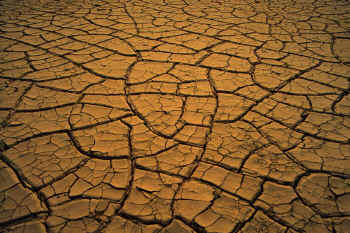 Cracked mud lake bed. Neil spotted this shot, the heat was effecting my photo-savy.
At the end of the road was a big dried lake and a tall sand dune. The dune had a long sharp knife edge leading up it. We climbed up, taking turns dropping back to take photos of each other walking up the ridge. We reached the top, not much time to admire the view, we had to get back to the truck so we could exit the park before the gate closed at dark. We could have walked back down the ridge, but we couldn't pass up the opportunity to run down the steep portion of the sand dune. Wow, we flew down, eating up the distance in gigantic leaps. It was a long, tedious hike back to the truck on the sand road. We drove back towards camp, stopping at another famous sand dune to take in the sunset. We climbed up part of the dune, the wind was whipping, sand blasting our faces.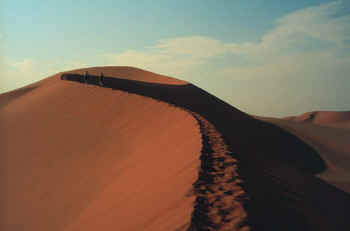 Neil and Sara heading up the big dune.
I was bushed by time we got back to camp. Unfortunately, I was on cook duty. If I could have ordered in pizza, I would have. As it was, I had to prepare wiener schnitzel for 13 people. I was pounding meat with my beer bottle until I thought my arm would fall off. After the main course, it was time for fried apples and caramel. I managed to make it through the ordeal, I only cut myself once, and resisted the temptation to stab anyone else.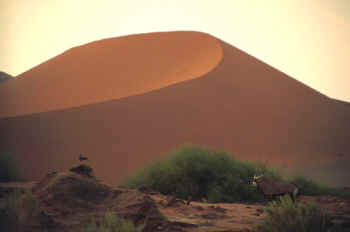 A bird, an onyx, and a really big pile of sand.
If you don't like sand and dust, you would not have enjoyed camping that night. A wind storm blew up, filling the air with blowing sand. I hadn't put the poles in my bivy sack, so the best I could do was draw the bag around my face. I would wake up periodically and sort of spit out the sand I had eaten. We even had a few very loud claps of thunder during the night, a thunderstorm in the desert, neat!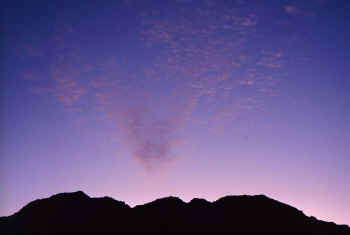 A rocky hill at dusk.