---
On the 15th of July, we started our five weeks of travel with 'Truck Africa'. The truck will take us from Cape Town South Africa up to Harare Zimbabwe. Now I'm not big on guided tours, but the public transport in Africa is pretty lousy. If you want to go to the out of the way parks and such, you either go with an overland company like Truck Africa, or you buy a car, not much else you can do.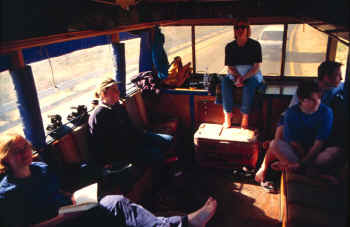 Katy, Sophie, Karen, Neil and Sara. Hanging out in the back of our truck.

The truck is a big customized Layland rig weighing in at around 17 tons (we have a spare engine, gearbox, axle, 4 spare tires, 500 liters of water, 4 batteries, canned goods to feed an army, and more). It has bench seating from 28 people in back. We can roll up the plastic tarp sides for open air travel. We have a small frig, stereo system, lots of storage space, cooking and camping stuff.
We met our driver Richard and our courier Tina at the hostel in Cape Town. Richard is an Australian, Tina is English. There are 8 other passengers besides Sara, Neil and myself. All are English, bloody hell! The number is quite small which gives us plenty of space in the truck, the last trip they had 29 passengers in the same space. After a run down on the truck, we grabbed a final chicken lunch at Nando's and headed out.
Riding in the truck in the city is an experience. It really is huge, I'm amazed we negotiated some of the corners that we did. Our one level of seating is above of the truck cab, you can feel high up driving in a sports utility vehicle, but this truck takes it to new levels. Everybody is below us, and we've got the coolest, badest truck around.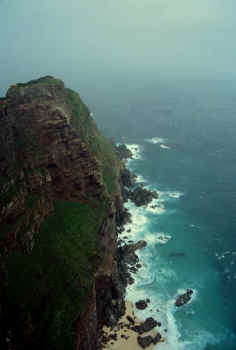 The Cape of Good Hope.

Our first day took us along the coast south of Cape Town to a hostel in Simon's Town. In route we visited the Cape of Good Hope were a rain squall blew in and got everybody soaking wet. The hostel is right on the water front, a herd of jackass penguins (called this because they bark like jarkasses) lived right nearby. In fact, the penguins like to get into the backyard of the hostel. To do this, they knock on the door and wait for somebody to open up. Then then waddle through the house and our the other door.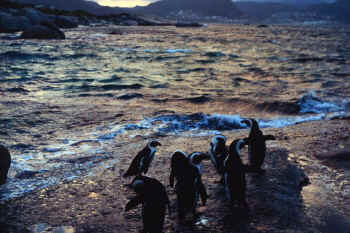 Little penguins waddling around on the rocks by the hostel.

We spent our last night in a bed, from now on we would be camping. Our first day of many in the truck... We stopped along the way to do at little wine tasting at two different spots. As a bottle of wine was only around 12 rand (less than $2), we took the opportunity to acquire a suitable collection of whites and reds to complement any camp meal. In hindsight, I'd wish we bought more. Only two weeks later and our wine stores are dangerously low!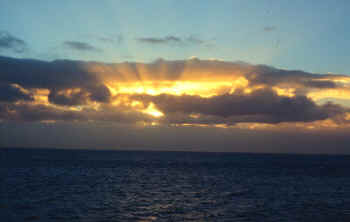 Good morning sun burst on the south coast of Africa.

Our first campsite was called Baths. It is located at some thermal springs, oh baby! The hot water is piped into a big warm swimming pool and can also be used to fill up a number of small Jacuzzi baths. A good soak before dinner, a better soak after dinner, and a nice refreshing soak before breakfast. Man, isn't camping rough?!?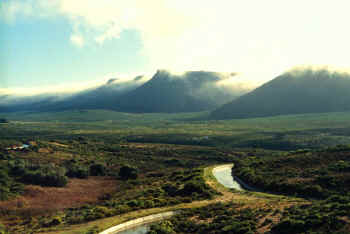 Buzz buzz, stop the truck, photo op!

From there, we continued our journey north, heading toward the border of Nimibia. Almost the whole day was spent bouncing along in our truck. Unfortunately, we top out at around 100 km/hour, not exactly the fastest thing on the roads. Our next campsite was more rustic, lacking Jacuzzis but still having a hot shower. As I wasn't on the cooking or cooking help team for the evening meal (all our meals are a group activity), I headed out to climb a little rock mountain near the caravan park. Felt good to shake out the legs after a day in the truck.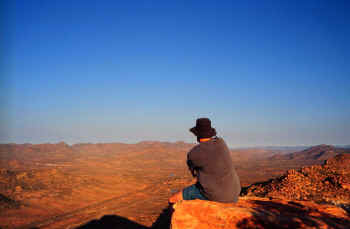 A nice little pre-dinner hike to be sure.

Our evening was spent playing a tongue twister game, a few Ojibawe games I've learned (3 pine cones plus 6 pine cones, minus 2 pine cones. how many?), and listening to folk songs sung by this strange old English fellow that turned up. He sung beautiful old tunes about climbing in Britain and even wrote a song for one of the girl's on our truck.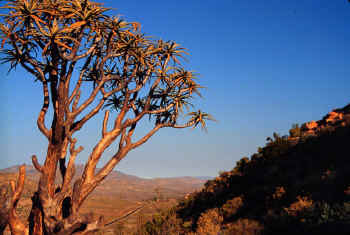 A tree I spied on my little hike.

As we've moved north, the landscape changed form the lush green of the South African coast, to the arid landscape of Namibia. We spent a long time clearing the various gymnastics at the border, passport checks, drug sniffing dog, pseudo-search of the truck. It was now getting warmer, the shorts and t-shirts were out, the side of the truck was up. Roaring down a dirt road, head out the window, mountains in the background, I'm in Africa baby!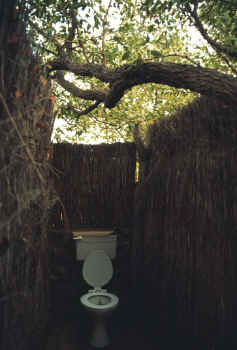 A nice juxtaposition, walls made of sticks, but a flush toilet.

We camped at Ai Ais, at the end of Fish River Canyon, the grand canyon of Africa. No time for hiking the first night, I had to settle for a trip to their indoor thermally heated spas. Oh life is rough, my green pants are starting to get bleached from so many hot tub sessions. After a delicious stir fry dinner prepared by Neil and Sara, we sat around the camp fire and relaxed with a beer or two.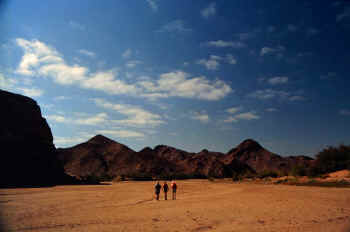 Neil, Sara and a German lady, hiking in Fish River.

The following day was a non-travel day, we had all day to hike around the canyon. With bag lunched in our day packs, Neil, Sara and I headed up the canyon for the day. The rest of the group aren't the keen hikers that we are. We walked up the dry river bed for about three hours, meeting a older German lady who joined our walk. She pointed out some of the plants and animals to us. We say some Cliff Springers (small deer-like), a goliath herring, some nile geese, and best of all- a large pack of baboons. The ran above on the canyon cliffs, swinging along the steep grade with wild abandon. The baby baboons would ride on top of the adults and a guard baboon sent loud barks echoing down the canyon. Wow.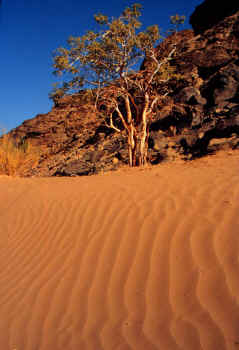 Sand dune in the canyon.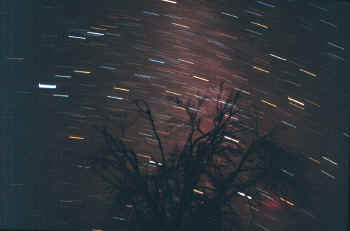 A new moon, clear night, in the desert of Africa. Holy stars!

We returned to camp after our long day of walking, took a dip in the thermal spas, and then joined the rest of the group. Turns out they hiked just a bit up the canyon, they saw baboons as well. We felt a bit slighted as we thought our baboon story would top anything they saw lazing around near the resort.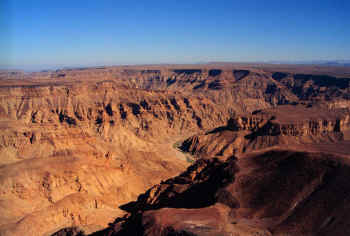 Kinda looks like the Grand Canyon huh? But you can hike to the floor in a half-hour.
We drove just a few hours the next day, going to the other end of the canyon. This end was much deeper, not even close to as deep as the grand canyon, but pretty deep. We hiked down to the river floor in about an hour, on a steep, rocky trail. The whole group, sans our driver and courier, made it down. I hung around the canyon floor until everyone had a good head start back up. I brought up the rear, reaching the top just in time for a cold beer and a nice sunset.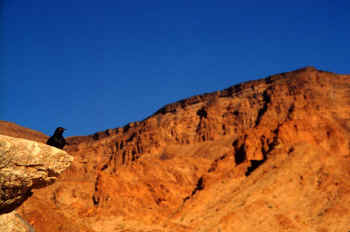 A red-eyed black bird, on the floor of Fish River Canyon.

Well that is all I have time for now, I'll continue the story at my next email opportunity (which may be back in the states, who knows). Take care.