---
"On the road again, just can't wait to get on the road again. Going places that I've never been, I just can't wait to get on the road again."
Hello everyone. Sorry if you haven't heard from me in awhile, since my return from Europe, I've been busying doing my masters at Oregon State in Corvallis. Happily I'm most of the way there, just have to do another 6 months or so to do a project.
Seeing as this is my last summer vacation ever, I figured a holiday was in order. Neil, the Scottish guy, and his English girl-friend Sara were planning a two month trip to Africa. I sat on the fence along time before deciding to go, but in the end I opted to blow my savings and head over here.
It was a hectic month before departure, I needed more shots than I care to enumerate, visas for several countries, airline tickets, tour booking, etc etc. All this while trying to go to take exams as well. All the planning came to fruition last Tuesday when I boarded a Northwest flight in Minneapolis. They had overbooked the flight, I could have taken the $1000 bump voucher, but it would have delayed my arrival in Johannesburg by several days and caused me mum a lot of additional worry.
I first flew to Amsterdam, spending the day on the ground. When I checked in for the following evenings flight to Johannesburg, I discovered I had been bumped to business class. I almost kissed the airline lady. I had plenty of time to head into Amsterdam for the day, but I didn't have the energy. I'd been there before, and I was afraid if I went to the Heineken brewery again I'd never find my way back to the airport.
After 36 hours I arrived in South Africa. Neil and Sara had arrived the day prior on the same KLM flight. Since I was sans-Lonely planet, they agreed to meet me at the airport. I saw no friendly faces upon exiting immigration, they must be running a little late. I sat down on my pack, and after 2 hours and numerous conversations with the hostel reps trying to sell me a room, Neil and Sara arrived. I guess they decided to sleep in...
Neil had a contact in Jo'burg, a south African family. Val, the mother, was very kind and drove us all over Jo'burg in here mini-bus. We left the airport, ahhhh fresh air, okay it was smoggy, but the sun was shining and I had finally arrived. They drive like crazy people in this country, if you are going less than 100 km/hour in a residential zone, people will ride your bumper.
After dropping my gear off at Val's house, we got on a metro train up to Pretoria, the capital city. I was quite tired, having been on an airplane the previous two nights, but it is usually best jet-lag wise just to try and stay awake. It was only 30km to Pretoria, but the train took 1 1/2 hours to get there, stopping everywhere.
In the end, we only had time to walk to the capital buildings and then head back to the train station. When the sun goes down, you want to be off the streets. It was a busy train, all the Africans were heading home after a day at work. Val had said not to get on a train car with any Africans (ie blacks), but this proved quite impossible since we were probably the only whites on the entire train. We never felt threatened in any way, just the subject of curiosity.
I guess you never understand what it feels like to be a minority until you are one yourself. In most of the countries I've been too, I can usually pass for a local if I ditch the backpack. That doesn't really work here. People stare, probably talk about you in their native tongue, just something we'll have to get use to I guess.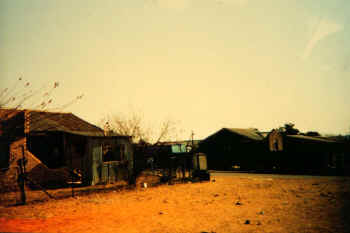 A typical street in Sorweto.
The next day, after a very long night's sleep, I went on a guided tour of Sorweto, one of the black townships outside of Jo'burg. Townships the areas where blacks were forced to live in the days of apartheid. It is now one of the biggest tourist attractions. Perhaps it is a bit sick, staring out at other people's poverty from the window on your mini-bus. I don't know, but ignoring such things and pretending they don't exist, I guess that is what is really sick.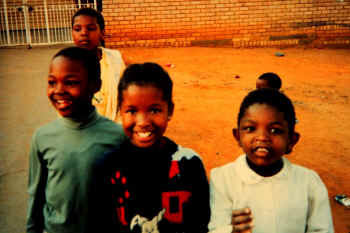 Children in Sorweto, they look so happy because they just enjoyed a delicious fruity Mento.
The township living conditions range from quite nice (the upper-class sections) to downright appalling (the squatter camps). Families live in tiny little shacks made from corrugated iron stolen from bus shelters. Things are improving I guess, they now have access to clean water and portable toilets. Everywhere you look, people are trying to scratch out an existence; selling vegetables, chickens, super glue, whatever they can. Children run about, playing where they can (usually in the streets), the children always seem to be smiling.
Our next destination was Kimberly, a diamond mining town on the way to Cape Town. We could only buy tickets as far as Kimberly, the train was fully booked from there to Cape Town. We were in second class, very nice, we had a compartment to ourselves and each had our own fold down bed. We spent the day in Kimberly, exploring the town. Seeing the Big Hole, this is the largest manually dug hole in the world. It is big for sure, around 200 meters deep I think. They mined millions of carats of diamonds here prior to 1916. We killed the rest of our day at the local museum and art gallery.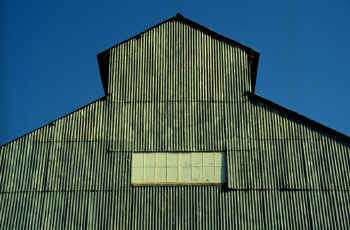 Corrugated barn in the diamond mining museum.
We were hoping that there would be some space available in first or second class on the train to Cape Town. But now such luck, only third class. They just keep selling tickets in third class, and they had sold quite a few that evening. We spent 16 uncomfortable hours crammed in with the locals, it wasn't pleasant, but it was an experience. The only thing I hate about travelling is travelling!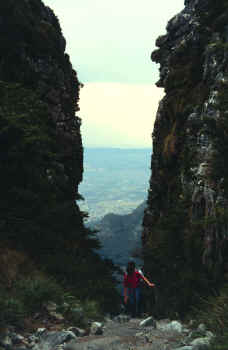 Neil and Sara arriving at the top of Table mountain.
We've been here in Cape Town for the last three days. We spent the first day hiking up the table mountain, a massive flat mountain within view from downtown. There is a cable-car to the top, but I would have none of that! I have to stay in shape for my Kilimanjaro climb. It was about 2 hours from town to the top, all up up up. We spent the day hiking around the network of trails on top, then took the cable car back down (why punish your knees when for $2 you can zip down?).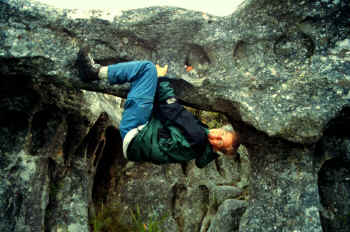 Just hanging out on some neat rock formations.
Yesterday, we took the ferry to Robbin Island. This is where until 1996, a prison was operated. Nelson Mandela served some of his time in a cell there. Our prison guide was a former inmate of the prison, he recounted many tales about what it was like in the prison. The political prisoners would often get beaten by the criminal prisoners, all under the "watchful" eye of the guards. The inmates who could afford it, would be in correspondence school. Those without the money, would take the same courses by copying the materials onto empty cement bags.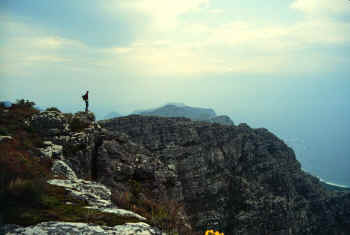 Looking out over the landscape.
South Africa certainly has some social and economic problems that need to solve. But things don't happen overnight, it will take many many years to heal the inequities of the past. Look at America, we still have things to sort out, and how long has it been since the abolishment of slavery? We leave in a few hours on our 5-week Truck Africa safari. We will be travelling up to Namibia, Botswana and Zimbabwe. After that, Neil, Sara and I will travel onward to Zambia and Tanzania. Not sure I'll be able to send out any more reports from the road, I will if I can. Take care, talk to y'all soon.