---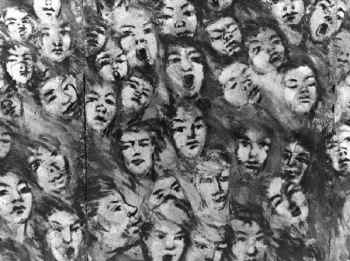 Close-up of a mural on the Berlin wall.
After a night in a hostel overrun with high school kids, I went on a tour of the "Terror and Division" sights. Went to the excellent Haus am Checkpoint Charlie where you can see all the creative ways people tried to cross from the GDR to West Germany. They stuffed themselves inside cars, tunneled, used zip lines, underwater scooters, gliders, suspended themselves on power lines, amazing. Also, sobering stories of those that didn't make it, bleeding to death in no mans land. "No more wars. No more walls. A united world." - mural on one of the last remaining section of the Berlin Wall.
Finally back to countries where my railpass was valid, I hopped an afternoon train to Prague in the Czech Republic. Talked to a German from the former GDR who was heading to the states in a few weeks. Only 8 years ago the guy could have only gone to eastern bloc countries. While he said many things have improved since the fall of the wall, he was also quick to point out a lot of things have gotten worse.
I never imagined the Czech Republic would be so beautiful. The train glided along a river valley, rock cliffs, trees, gorgeous! I arrived in Prague at 10pm; my friend Katerina who had studied in Sweden in the fall was not at her phone number. I felt naked without Lonely Planet guidebook coverage. I met a few Americans and we set out to find one of the few hostels near the station we had got off at. Even despite my extraordinary navigation abilities, we were soon decidedly confused. Eventually we determined our web instruction to the hostel had used 'east' when in fact they had meant 'west'.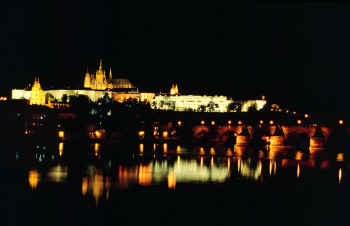 Prague at night.
We followed the instructions until they ended with 'look for the sign' and 'next to the scrap yard'. Bloody hell, where is it? We were about to give up and head back to the station when we saw 'hostel ->' chalked on the side of a warehouse. We followed the chalk mark and found the hostel, only they were full up. The two Americans headed for the Best Western, not wanting to sacrifice my shoestring principles, I negotiated in German (I don't speak German by the way) for a spot on the floor in their TV room. Private room and half the price!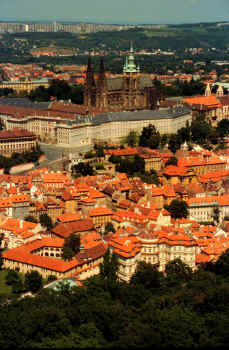 View of Prague from a hill next to the city.
After a long series of phone calls, I finally discovered Katerina was on holidays :(. I switched to a hostel closer to downtown and spent two days wandering the city with a Canadian guy I met at the hostel. Pretty city, windy streets, limestone bridges and cheap food and beer (I had a Czech Budweiser, claimed by some to be the best beer in the world, can't get it in the states, American Budweiser had a conniption fit).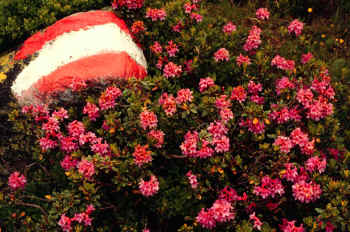 Rock marking the trail in the alps of Austria.
Grabbed a night train bound for Munich. The train had backpackers coming out of the windows. After an enjoyable night getting up close and personal with a Canadian girl's feet, we arrived. Having already been to Munich, I carried on to Zum Am See Austria. It was a sunny, warm afternoon as I strolled the few kilometers down the lakeshore to the hostel. I spent the rest of the day organizing food, map, and taking it easy in the sun.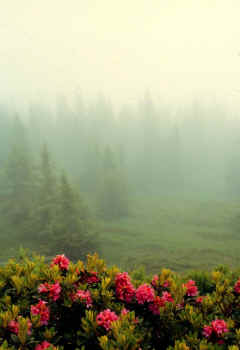 Flowers in the fog.
The next day I cheated and took a cablecar to gain about 1000m in elevation. Since I was now hiking, the weather of course changed. It was rainy and cold for two days, one night it rained for something like 12 hours straight. July and I was wearing my mitten and hat, good thing I had put my long underwear back in my pack (I originally had thought it was overkill, but ALWAYS take your long undies).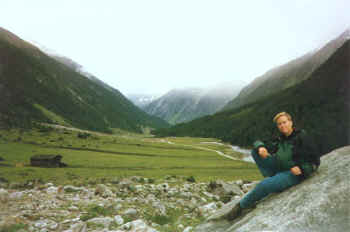 Enjoying a day hike in Austria.
The scenery was nice when you could see it, green mountain fields, straight out of The Sound of Music. I was constantly been harassed by the wildlife (cattle, goats, sheep and horses). The animals were always following me around, I think they liked my bright red pack rain cover, sometime I almost started a stampede. Those big horns on the steer scare me!
After drying out a bit, I spent my last day in Austria at a popular waterfall with three different levels. To get there you take a two-hour train trip on a narrow gauge railroad through a valley between mountain ranges. If I wasn't so sick of trains I probably would have thought it quite keen.
Seeking warming climes, I packed my gear up and headed south....