---
If you haven't heard, I made it back safely to the land of taco bell and gigantic 24-hour grocery stores. Now if only they had apple mentos around here somewhere... I'll finish off my updates in several parts as I get around to writing them.
----------------------------
When we last left our hero, he was Moscow bound. Since we were not Russians, we had to pay the foreigner's fare for a second class sleeper instead of third, fourth or fifth class (no joke, they have em!).
Neil, Sara and I were joined by a Russian who spoke limited English. It wasn't long before he whipped out a bottle of vodka and we were obliged to sample his distillation masterpiece. We didn't go blind and Neil took to improving his Russian by using our little phrase book. By time the bottle was finished, Neil was quite adept at saying "I look forward to a mutually beneficial business relationship" in Russian. Sara and I pointed out that we might be better aided by more useful phrases like "where is the toilet", but Neil wasn't in the condition to care.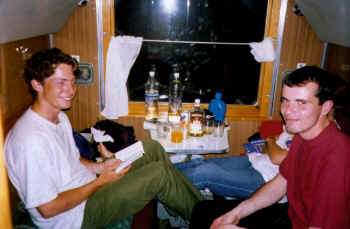 Neil conversing with our Russian compartment-mate.
After my first, last and only night train sleeping on an actual bed, we arrived at Moscow. The Russian woman taking care of our car seemed quite irate from our very arrival. I waited patiently while Sara carefully packed all her gear, tied her shoelaces, adjusted her hat, and generally took a long bloody time. By time Neil and Sara cleared the compartment, the Russian woman was growing even more agitated. Yeah yeah, I'm on my way. After I wrestled my pack from the bin, I took the first pack out to the platform and headed back for the second. Boy this Russian woman just won't shut up. Hey wait, why is the train moving. Oh shazbam! I grabbed the remaining gear, and made a flying leap from the moving train to the platform. The destination is indeed sometimes the byproduct of the journey...
We checked into our hostel and headed back into town. We split, Neil and Sara went to buy train tickets while I plugged the cash machines for 1.5 million rubles to pay for a flight to Berlin (about $200). Armed with my wallet full of rubles, no guidebook, no map, and my impeccable sense of direction, I set out to return to the hostel travel agency. About two hours later, I finally found the hostel again just in time to wait an hour for them to generate my ticket, the Russian machinery running in high gear.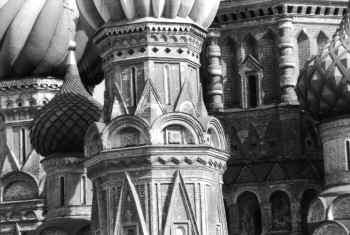 Close-up of St. Basil's cathedral.
After negotiating the rat maze exits from the metro, I met Neil and Sara again. We paid the ten dollars to get into the Kremlin grounds and buildings (Russians pay two). If you like religious icons you'd be in nirvana here. The best part was watching the policemen blow there whistles any time I tourist stepped out of the designated areas.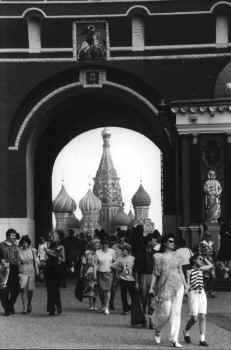 Gate leading into red square.
We went to red square, it is quite a big and impressive place, Kremlin on one side, St. Basil's cathedral (you know the one with all the onion domes) on another. You can also go and see the pickled body of Lenin, he looks strange like some sort of doll.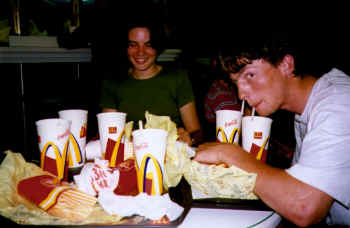 Neil are Sara making pigs of themselves.
It was dinner time and since we hadn't had breakfast or lunch yet, it was time to eat big. What better place than Russia's first McDonalds. It is huge, maybe 30 checkout lines. We paid US prices, got huge fries and drink, and got served in 30 seconds (2 kilometer queues and big macs selling on the black market are ancient history). So that was lunch right? Time for dinner, value meal round two, oh baby.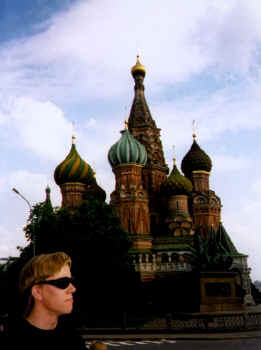 Looking cool in front of St. Basil's.
I finally managed to get my visa registered. It cost 235,000 rubles ($40) for the stamp of approval saying I had been a good little American tourist. Better than risking the stiff fine at the airport though.
We took a trip to the top of the Moscow TV tower for a view of functionalism as it approaches infinity. We had to show our visas and passports twice before they let us up the tower. I still managed to plant a listening device to send quality Russian soap operas direct to the NSA for analysis and entertainment.