---
Hello,
First of all, a jatte valkomen to the new people on the list, I thought I'd add you guys before I lost all the email addresses I've collected the last few days.
I spent the month of May traveling around Britain and Ireland. It was quite a change, after 9 months I was now in places where they spoke English (or at least some approximation thereof).
I started from Linkoping loaded down with gear. I had my large mountainsmith pack full and dense, my daypack full, a large compressed sack of clothing, and a bag of food. I must have been quite a sight staggering on and off the trains. The goal was to get all my extra stuff to Paris and leave it with David, a French guy who was here in Sweden in the fall. I fly home from Geneve on July 23rd, so Paris made a good nearby cache (and prevented me from spending hundreds of dollars shipping the gear home).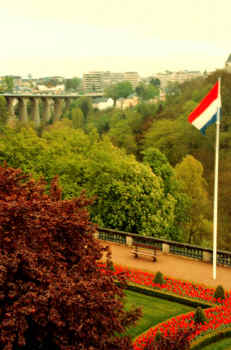 Luxembourg flag and a view of the valley.
I stopped off for a day in Luxembourg City on the way to Pairs. Luxembourg is a very small country between France, Germany and Belgium. I was quite a beautiful city situated where a few valleys come together, lots of old walls and fortifications.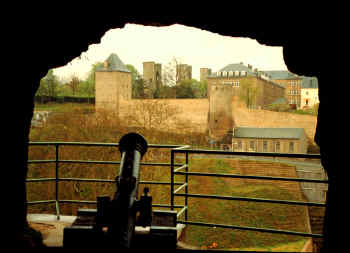 Canon pointing out of one of the cave fortresses.
In Paris, David's family treated me to a full French meal: appetizer, entree, salad, cheese, wine, desert. A definite improvement from my standard train diet of crackers, cheese and bananas.
My pack feeling much, much lighter the next day, I zipped up to Calais on the TGV high-speed train (300+ kph), took the ferry to Dover England, and then on to Birmingham via a shockingly rough and slow train.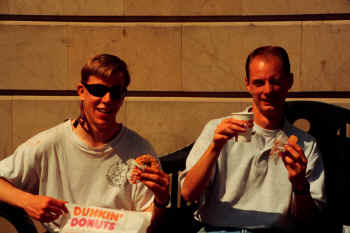 Mike took me to his favorite haunt, Dunkin' Donuts.
My friend Mike has been studying on UMD's program in Birmingham for the last year and he was there to meet me upon arrival. I spent two days there, enjoying the beautiful 75F sunny weather, some Pakistani balti, and more Dunkin Donuts than I care to enumerate.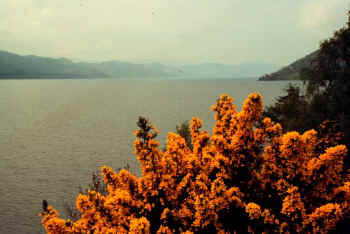 View over the loch.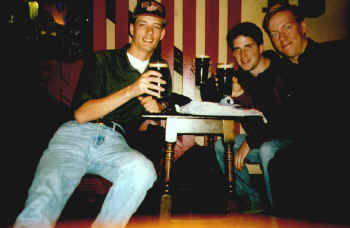 Enjoying a pint of black gold in Scotland.
We then headed up to Invernes in Scotland to meet our other American friend Paul who has been working in Edinburgh. It was quite amazing and improbable event that the three of us were together, enjoying some Guinness at a Pub in Britain. I would have never predicted this a year ago...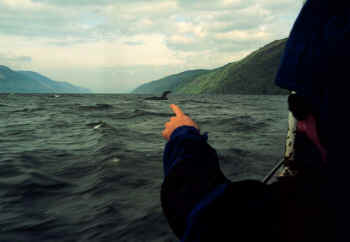 Paul managed to spot the beast coming up for air.
Against my will, I was dragged on a guided tour of the Loch Ness. We went to the nessie center with all the photographic, sonar and other data collected to support the existence of the beast. We also went on a short cruise on the Loch to do a little nessie spotting of our own.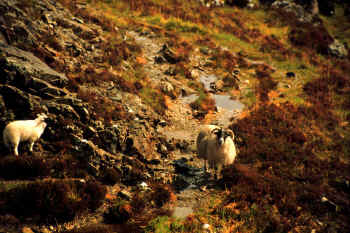 None shall pass?!? I'll make a doner kebab outta yah!
After a few nights of gorging ourselves at the all-you-can-eat pizza buffet, Mike had to return to Birmingham, and Paul had to finish his last week of work in Edinburgh. I headed to the Isle of Skye on the west coast of Scotland.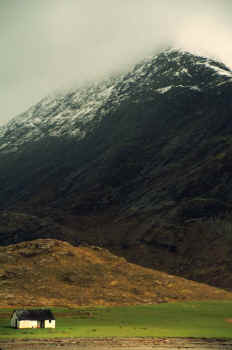 Lone building on the shore of the ocean, Isle of Skye.
I found a nice, free campsite on Skye, conveniently located right outside a pub. I hiked around the Cullin Hills for three days. This was my first taste of the Scottish weather. Each day, I saw it rain, snow, sleet, and hail. It was so windy, I occasionally stumbled as the wind blew me off course between steps. Johan's tent poles may never be the same... The trail was easy to follow since it was wherever the most water was (water proof boots, Gore-Tex socks, gaiters, but my socks still got wet!).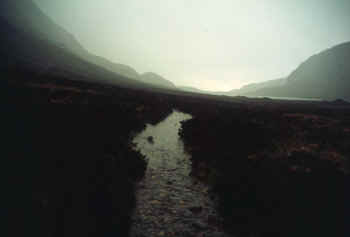 I'll give you one guess where the trail is...
I dried out as best I could, and headed to Edinburgh to meet Paul. Neil had been plugging his home town of Edinburgh for months prior to my trip. It was okay, they had a Dunkin Donuts, a nice castle and nearby mountain to climb, but I might also add that I almost stepped on a big ugly DEAD RAT on the sidewalk one day.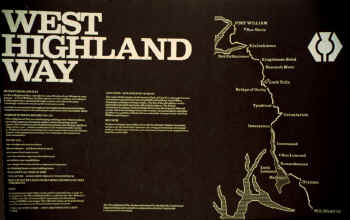 Map of the West Highland Way.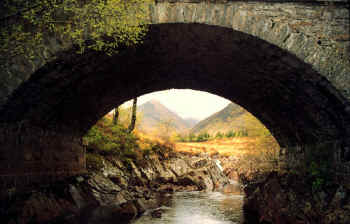 Old stone bridge along the trail.
We left Edinburgh a little behind schedule after we missed the first train and had to wait another 6 hours for the next one (the Paul factor). We headed back to the west coast to spend three days hiking the northern part of the West Highland Way. This track goes through the Scottish highlands and the moor landscape. Well at least I think it did, we couldn't really tell since it was raining so hard all the time. I mean it never let up, our only comfort was the pint we could enjoy at the strategically situated pub at the end of the day.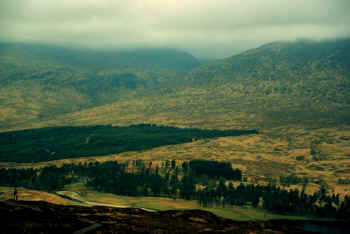 Vista during one of the few clear moments.
We arrived at the hostel near Ben Nevis after the third day. I was dripping water on the reception desk as the lady pointed out the location of the drying room, just in case we needed it she said with a smirk. The next day we started up Ben Nevis, the highest mountain in all of Britain.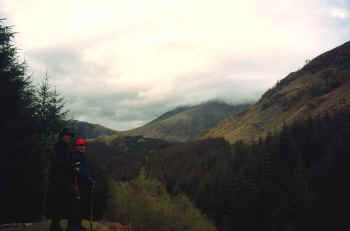 Paul and I near the end of the West Highland Way.
It wasn't raining for a change of pace, but the peak was in the clouds. We hoped it would clear up, but of course it didn't. Towards the top the snow started getting deeper and deeper. We got close to the summit, but it was white in all directions. The first few parties were heading down, they didn't know where the true summit was. We poked around for a bit, but decided to let discretion be the better part of valour. I suppose somebody found it that day, there were hundred of people heading up on our way down.
Our next destination was Ireland, I headed to Glasgow by train, while Paul took the cheaper (and faster) bus option. In route to Glasgow, I had to pick up our extra gear we had left in a locker at a hostel. I was on the last train of the day, so I had to make a mad dash to recover the gear and get back on the same train. Made it in 3 minutes with several to spare. The other passengers seemed quite amused by my antics.
After a night in Glascow, we headed by Stena's HSS (high speed ship, 40 knots!) to Belfast.
I'll tell you about our Irish and Welsch adventures tomorrow. I'll only be around for the next few days, so keep those cards and letters coming.
When we last left our heroes, we had just arrived in Belfast Northern Ireland. Now as I'm sure you probably all know, this is the center of "the troubles". You be hard pressed to tell by just looking at the downtown area. Really it looked like any other city in Europe.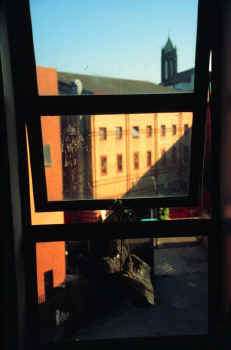 My boots had to be ejected from the hostel for gross odor violations.
Paul and I checked into our hostel, then made a b-line for the KFC down the block. Since we hadn't had breakfast, lunch or dinner yet that day (and it was late afternoon), we had the KFC family feast. 8 pieces of chicken, 4 fries, coleslaw, beans, ice cream, it almost filled us up...
We had a nice pint of Guinness (which of course was tasting better and better as we approached the source of this black nectar) in a historic pub. Retiring to the hostel, I tied my hiking boots outside the 4th story window to prevent any of us suffocating in our sleep.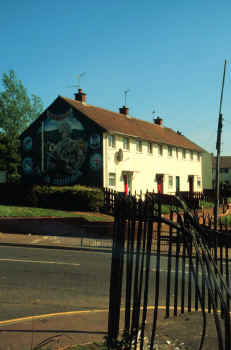 Destroyed fence in the foreground, mural on the building.
The next day we took a mini-bus tour of west Belfast with a bunch of other backpackers. Here we saw both the hard core Catholic and Protestant areas. The police stations were heavily fortified with four story corrugated metal walls and barbed wire. The British troops on patrol were in full combat armor, helmets, machine-guns, moving in formation covering each other. The army maintains bases on the roofs of some of the apartment buildings to monitor things. Personnel go to and from these bases only by helicopter.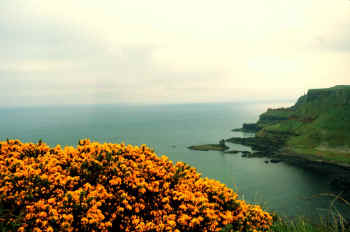 Coast scenery in Northern Ireland.
Leaving Belfast, we headed to the northern coast of Northern Ireland, a place called Whitepark Bay. There was a new youth hostel there and it was absolutely the nicest hostel I've ever been at. There was a common area with big bay windows looking out over the ocean and beach, with a wood burning fireplace to boot. We had a room to ourselves with our own shower and toilet (unheard of luxury!).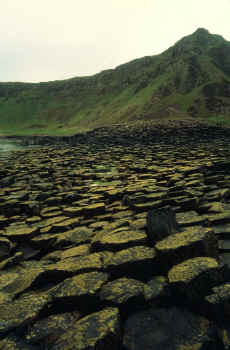 Giant's Causeway, a strange natural formation of rocks.
We hired some bikes from the hostel and spent the next day seeing the local sights. Went to Giant's Causeway, a collection of hexagonal rock formations on the shore (a geo person would bore you with the hows and whys of its creation, I just thought they were cool).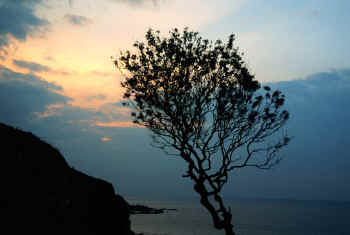 A tree along the coast of Northern Ireland.
We went on a tour of Bushmills, the oldest whiskey distillery in the world. Got to sample a dram of there product as well, distilled three times, unlike Scottish whiskey which is only distilled twice (and of course the Irish are quite found of pointing this out).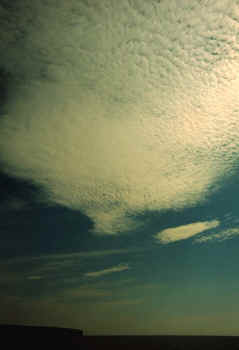 Clouds and sky as we sail to Doolin.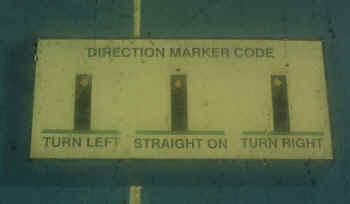 Direction finding for idiots.
We made it to Doolin that evening, visiting one of the famous music pubs (O'Connels I think) and enjoying more Irish stout. The next day we hiked the 8 or so kilometers to the Cliff of Mohr, a fantastic set of sea cliffs. We took the alternate 'cliff side' trail back to Doolin. Cliff side would be a good description of the walk. At points we had to bail off the trail and walk in a farmers field for lack of a belay, yeez.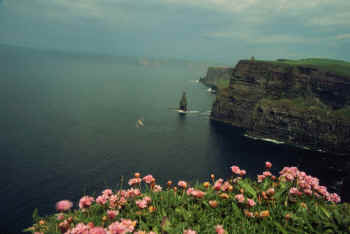 View from the cliff tops.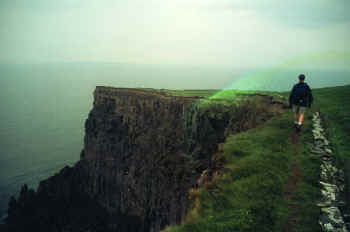 Hey, I don't think this trail is OSHA approved.
Next stop was Dublin. Historic buildings, museums, or art galleries? Nawh, we went to the Guinness Brewery and had a pint, you can't get any closer to the source than this! Oh only goal completed in Dublin, we bought food and a map and headed south of Dublin for a walk.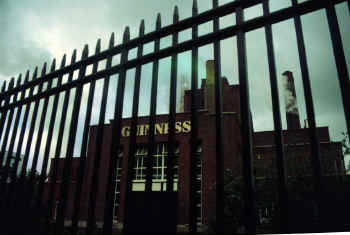 Now that is a fence worth climbing!
We hiked for two days on the Wicklow Way. It wasn't big-time mountains or anything, just nice farm landscape and hills. It didn't rain on us directly, but it was sure misty enough to obscure the vistas. Plenty of sheep running around, after an unsatisfying meal of pasta, the little lambs bring two words to mind: doner kebab!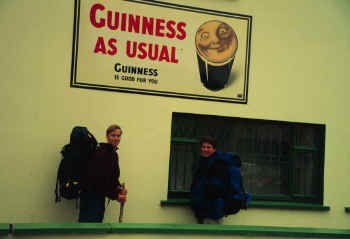 Nothing like a nice pub at the end of a day of trekking.
Time was running short and we wanted to spend a few days in Wales before my departure. We took a slow ferry across to Holyhead, paying the cheaper day-return fare. We weren't suppose to have any luggage with these tickets, but luckily the check-in guy said he "was in good humor today".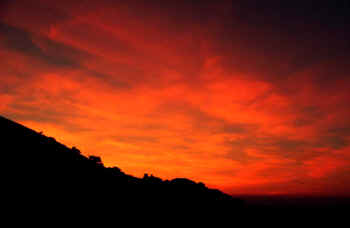 Sunset from our sheep pasture camp site.
We headed to Llanberis near Snowdonia national park. The hostels were all full due to the bank holiday weekend. We found a really cheap campsite near the hostel, essentially it was some farmer's sheep pasture, luckily we got one of the few flat spots in the whole place.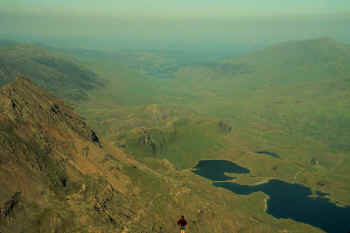 Looking out over Wales from the top of Snowdonia.
The next day we took the horseshoe trail, a ridge walk to the summit of Snowdonia (this is the highest peak in Wales and England). It was a fantastic day, sunny and warm. There were herds of people all over the place, we had to queue up in places on the ridge to get across. It was fun rock scrambling with a view that inspired a few rounds of the theme to Grizzley Adams.
With only two days remaining on my interrail pass, it was time to head back to Sweden. I left Wales first thing Monday morning, 9am. The first bad omen was that it took me 2 1/2 hours to cover the 8 miles to the train station by bus. I made it to London and there I made the fateful decision not to take the Eurostar through the chunnel to Brussels (it is quite expensive, $50). I figured I could make my 11pm night train in Brussels by crossing at Dover. Well I didn't even come close, I ended up benighted in Calais France, eventually found the hostel at 1am and got a quick 5 hour nap before grabbing the next train.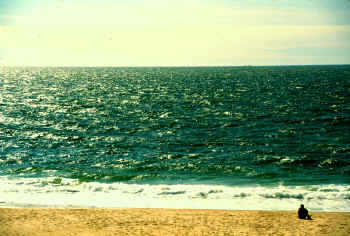 German tourist on the beach.
From here on out, things continued to go wrong. Took 5 hours to get to Brussels from Calais, missed the train that would have got me to Hamburg in time to get the night train to Copenhagen. Etc etc etc, Ad nauseam.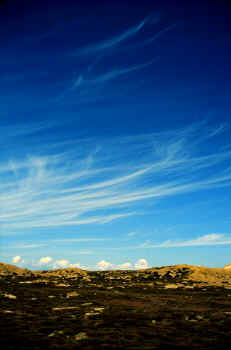 Whispy high clouds over the barren landscape of the German island.
In the end, I didn't arrive back in Linkoping until Friday, five days after I left. I did spend one day cycling on a German island near the border of Denmark, mostly because I was too buggered to travel anymore. It took me a sum total of 51 hours of train travel (including waiting at stations) to get home from Wales. Unbelievable, next time I'm flying!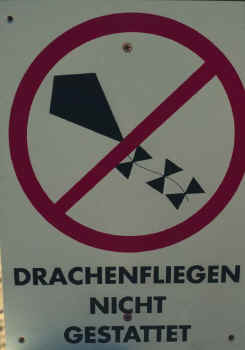 Those damn Germans won't let you have any fun.
Since Friday, I have been recharging my travel batteries in Linkoping. The weather has been awesome, we are BBQing several times a day and it doesn't get dark until 11pm. The mosquitoes are out, I entertain my international friends with some of the tricks I've learned in Minnesota; catching two mosquitoes and making one bite the other, trying to get one to explode with blood (so far unsuccessful, any tips?).
I'm leaving tomorrow or the next day. I will be traveling in Scandinavia and Russia in June, and then the rest of Europe in July. Everyone take care, look forward to seeing y'all soon!
Det ar Sverige, over och ut.