---
Do not think this got to you from Russia so here goes from a train station in Switzerland. Got to get to my train or I would write more.
Hello comrade!
You are receiving this broadcast live and direct from St. Petersburg in the former Soviet Union. The hostel here, of all places has email available for its guests (since the going phone rate to the states is $6/minute, this is quite handy). I'm being timed here, so don't expect my usual spelling perfection :)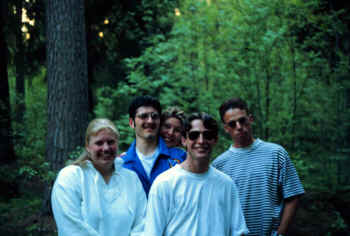 Our winning scavenger hunt team, we used superior skill, intellect,
and a little bit of bribery.
After returning home from my tour of Britain in May, I spent a little less than a week recovering from my terrible epic train journey back from Wales. The weather was perfect, sunny and warm. At the climax, we were BBQing twice a day (and getting in a few rounds of boche ball as well).
I managed to sell, give away, or throw away all the accumulated junk from the past year. With the high prices of food in Scandinavia, I was unable to bring myself to throw out my non-perishable food. This resulted in a ridiculously heavy backpack to start my journey.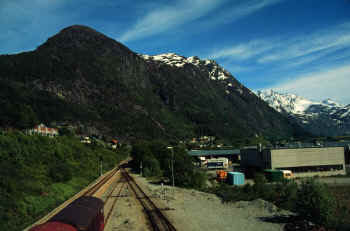 Train station in Norway.
It was a bitter sweet moment when I left Linkoping for the last time. While I had two months of travel to look froward to, I knew I would not be back for a long time, just memories. That is the crap part of studying or living abroad: You build yourself a whole world of friends, places, and knowledge and then one day, poof- all just a memory.
My first destination was a hostel near Jortehemen National park in central Norway. I took a couple trains and two buses to get there. To my amazement, my connections were all incredibly good, only waited a few minutes for each bus. Maybe my luck had changed...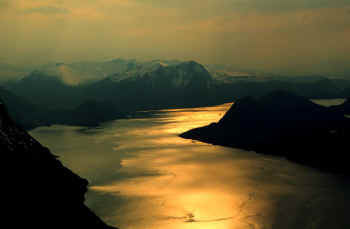 Fjord view from a mountain near Andelnes.
The hostel was set in a nice valley with mountains and a white water stream down the center. Unfortunately, the hostel was too far from the park and transportation was so bad I never made it. There was probably too much snow anyway. Has a consolation prize, I got to spend the day fly fishing in the river and just generally lazing in the sun.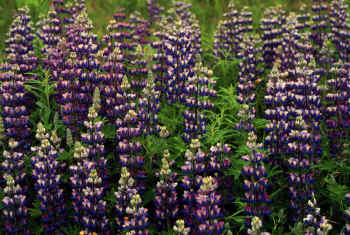 Big purple flowers (that's the Latin name).
Without many options for hiking, I decided to head out the next day. I took a incredible, awesome, A1 train trip down to Andelnes on the coast. Saying that the scenery out the window was breathtaking hardly does it justice; towering mountains, 500m waterfalls, more big wall climbing routes than you can shake your nut tool at.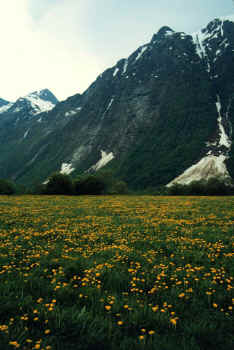 Field of dandelions with a mountain view.
After checking into my hostel and cooking some noodles, it was time to go hiking. Normally, 6pm would be a tad late for a four hour hike, but not this far north! It was a very steep trail, up up up and up. I reached the first summit and then continued on along a ridge to about midway to the next before it got snowed out. 360 degrees of fjords, high mountains and the late afternoon light. If big G spent 6 days on the whole world, he must've spent 3 of them on Norway.
Next stop was my favorite spot on earth, the hostel in Stamsund on the Lofoten islands in northern Norway. After a train and boat journey (Hurtigruten revisited, this time sunny), I arrived to find the various hostel guests looking intently over the edge of the dock. Without a word, I put down my pack and peered over myself. There was good old Roar in his boat, fishing out a BBQ grill that somehow had sunk to the ocean floor.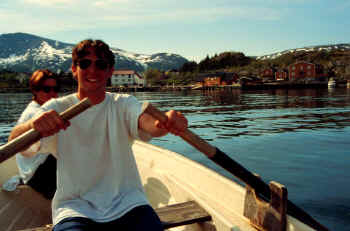 On an afternoon row from the Stamsund hostel.
Neil and his English girlfriend Sara arrived the next day. We could have toured around the island, we could have gone backpacking, or whale watching, or any number of other activities. Nawh, lets just hangout at Stamsund. Our most notable adventure was climbing the local peak the evening of June 9th. We reached the top right before midnight. At midnight we had my birthday cake (swiss roll) and then watched the midnight sun until 1am when it started to head right back up again.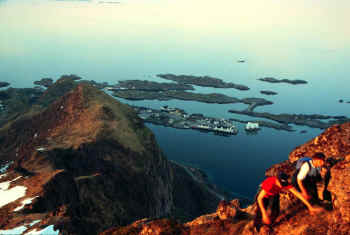 Climbing to a high spot to see the midnight sun.
We tried eating fruit flavored mentos while out fishing. Unfortunately the mixed fruit appear to attract either whales or dolphins (not sure which it was) and not cod. I did catch a few small fish I threw back while fishing off the dock with my fly rod and some fish guts on a hook.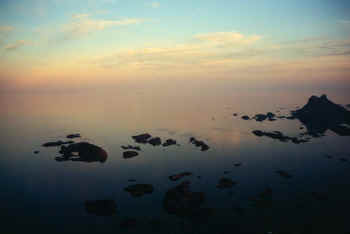 Small islands in a calm sea.
The problem with Stamsund is getting the heck out of there. Not only is it hard mentally to leave, but physically the bus, boat, and train connections are impossible. Our next destination was eastern Finland which took us about three days to reach.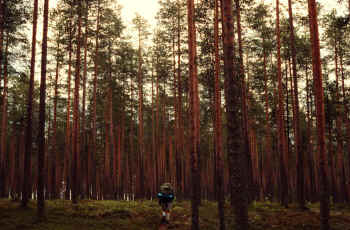 Neil hiking through the Finnish forest.
Finally at the trailhead, we embarked on a 5 day walk through the Karhunpulku, the bear's path. The first day we suffered heat and mozzies that just wouldn't quit (fortunately they are still smaller than Minnesota mosquitoes). After that, it cooled off and got windy, saving us much pain.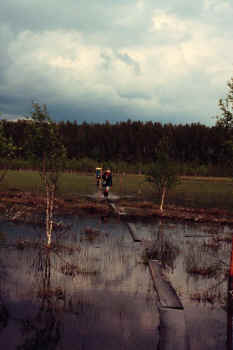 The underwater walkway trail.
It was very much a forest walk, only a few small vistas in the whole trip. I came away with plenty of close-up photos of the vegetation anyway. We also go to cross this big swamp on a sunken boardwalk, I was up to my knees at one point, don't slip!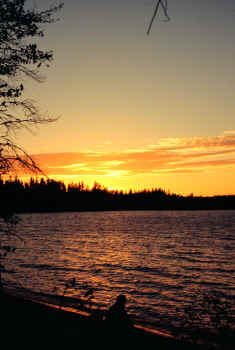 Sara sitting down by the lake at sunset.
We reached our endpoint, Naarva. This is not a major city by any stretch. They had a gas station anyway. A helpful Finnish women in a bright track suit happened by. She spoke a little English and helped us arrange a place to stay with this old man with guest houses. Ohhhh, a sauna never felt to good!
The next day we headed back to civilization after waiting for 4 hours for a taxi-bus out. I called my long-lost-finnish-cousin Risto in Helsinki. They were heading to this rented lake cabin for the mid- summer festivities. Luckily we called when we did, two hours later we would have missed them. They picked us up at a nearby train station, packed us into their already full cars and we were off.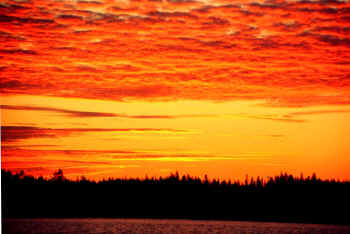 Sunset at a lake in Finland.
We spent three days at the lake cabin, a total of 16 people from around the world were on hand. Risto was the only real fin, we had Swedish speaking Finns, Japanese, German, Argentines, and French. Our days were booked with a demanding schedule of sleeping, eating, drinking, saunning, eating, saunning, swimming, saaaaaunning.
On midsummer eve, after a steak dinner, we headed down the dirt country road to the local dance. Finns young and old were gathered to dance to the polka-like vibrations of the local band under the perpetual dusk light.
After eating another excellent meal, we loaded up the cars and headed out of the sticks. We arranged to be dropped off at a hostel in this city where the St. Petersburg bound train left the next morning. Unfortunately it was closed for midsummer, so we ended up sleeping under the bike shelter of the hostel (out of the rain, and hey, it saved us 85 finmarks each).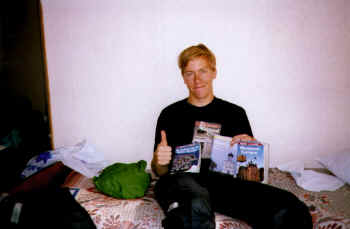 Lonely Planet guidebooks, don't leave home without them!
Crossing into Russia was easy, never had to leave our seats, just had to provide the proper documentation to each of the long series of officials that came by.
We have now been here for four days. I spent the first day and a half trying to figure out how to register my visa that a family friend in Helsinki arranged for me. After much research, I was told that it doesn't need to be registered and that I am free to leave without registration. I don't really believe this, but I have given up trying to figure out the Russian bureaucracy. Most likely I will get out with no hassles, in the worst case I'll be fined 100-200 dollars.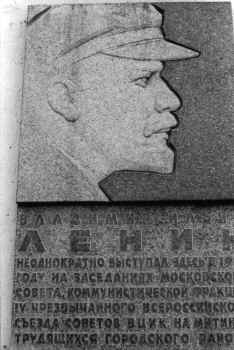 Stone carving of Lenin in the side of a building.
Once I gave up on the visa, I was free to see the local sights. We have been to the Hermitage and the Russian museums. A lot of boring portraits of dead people, but there was the occasional nice piece.
We have been to the prison where you can see family and friends of the inmates use sign language to send messages back and forth. We have seen more statues of Lenin than you can shake your booties at. We have also spent a bit of time at a subway look-alike restaurant eating meatball subs and watching the people go by on the main street.
The city is very westernized, street signs are sponsored by USA today, Coke, etc. Most buses are moving ads, etc etc etc. Must have been quite different twenty years ago. It is still much harder and more confusing travelling here than anywhere in western Europe, I took 5 different subway trains back to the hostel today instead of 1 because the Cyrillic characters are so incomphensible.
We are off tonight, in two hours to be exact, to Moscow. We will spend a few days there and then I will be off to travel a bit more in Europe before I head home on the 23rd of July.
Time to clock off this thing. Take care, enjoy your summer, be back soon!