---
Hej,
Well I have returned to Linköping for April. I was reading my journal thinking about what to write for this update and it occurred to me the raw journal entries might be more interesting and a change of pace from an edited summary.
Since it isn't edited, it will be a lot of text, I will send several parts over the next week. These entries cover a 3 week trip by boat up almost the entire coast of Norway and back.
3/14 Friday 7:49pm Hurtigruten Ferry.
Went to my exam Monday afternoon, they didn't have an English version made up much to our dismay. I had my big dictionary so I was able to get a useful start on two of the six, the other four were hard to understand. They managed to get somebody to whip up an English version and they gave us an extra hour to work on it. So it was a long five hours, running on just two packs of the freshmaker. It was non trivial and I thought it was much harder than the exams in the tentasämling (past exams). I think I should make it, I should get two totally right and at least partial credit on the others.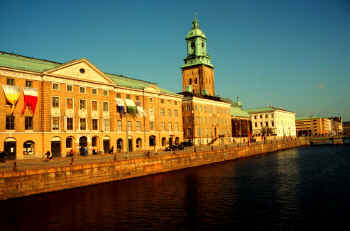 Building along a canal in Göteburg.
Was up late packing gear and then we took a 9am train to Göteburg. It was a gorgeous sunny day. It was so nice to sit outside, munch gorp, etc. You really miss out on that in the winter. We didn't go to much, we walked way across town and went to a scenic overlook. We sat around and watched on of the ferries come in. Scrambled on some rocks for old times sake.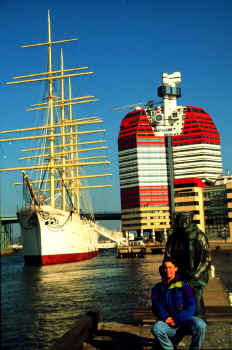 Neil with the headquarters of Skaska in the background.
We carried on to Oslo and went straight to the same hostel Erik & I stayed in. No rooms without showers so we had to pay 175 NOK/each (~6 NOK = $1). Must be one of the most expensive hostels on the planet. We went to the Viking ship museum, Kon Tiki (guy who made reed boats and sailed around), Fram (boat that went to the north pole). Saw the naked sculpture park, but this time it was warmer.
After a fair bit of aimless wandering, I managed to find the kebab shop Erik & I ate at. It was 4 and rainy all day, felt pretty cold by the end. I'm still not feeling well, got sick last week and it is dragging on.
We took the train to Bergen Thursday, one of the longer day trains I've been on. The scenery was quite spectacular, the train ran along fjords with mountains, on a big snowy plateau, along a stream with white water (mental note, try for a paddle trip here sometime). As we approached Bergen, 'Rocky Mountain High' by the Dalilas (covering John Denver) came on my headset, "When I first came to the mountains, my life was far away, on the road and hanging by a song..." I think the song will make a nice keynote to our journey.
We had plenty of time to kill in Bergen, we went to an old tower, tried to go to the leprosy museum but it was closed :(. We wanted to take the funicular railway to the top of a nearby mountain, but it was closed for 4 days (that day included). So we had to hike all the way up, we had nothing better to do I guess. Did some of the trails at the top, got turned around for a bit but managed to find our way down as it was getting dark.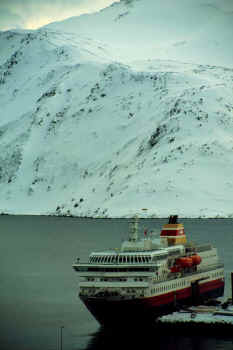 One of the standard ferries we sailed on.
We looked unsuccessfully for cheap eats but settled for splitting a pizza at 65 crowns each. By time we finished, all the grocery stores had closed (it was late, 8:30pm! I miss the states). We boarded the Kung something-or-other ferry. It is almost too nice, there are not areas designated for deck passengers to sleep. The reception lady said we weren't suppose to use sleeping bags, but if we did, to be up early. Why such arbitrary rules? Just to make us uncomfortable as possible I guess. We got yelled at today for eating in the wrong place. I sometimes get sick of getting chewed out by various conductors, etc.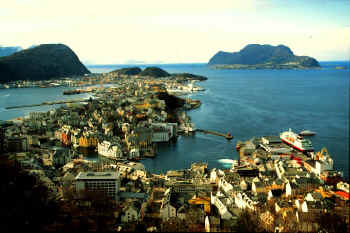 View of Ålesund, just like the LP Scandinavia guidebook cover.
The boat isn't really busy, we found a quiet lounge on the top deck to sleep in. Still got woken up by early birds wandering around the boat. It is always a lot of work to do things like shower and sleep, always in the baggage room shuffling stuff. Keep my expensive cameras and such with me at all times though. We got 2 1/2 hours in Ålesund today. The weather was good, 4C and sunny. We climbed the 437 odd steps to the observation point, cooked soup/pastra on Neil's stove (once I figured out we needed spacer sticks to keep it from going out). Life is pretty slow here, sit on the observation deck and stare out the window mostly. Take naps whenever the mood strikes me, like maybe right now...
Sat 3/15 12:31pm Hurtigruten, North of Trondheim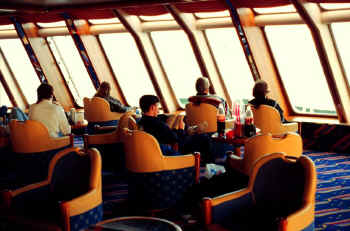 Deck 7, our home for most of the trip.
Another night on the floor in the lounge. Slept better on the floor than on the coach. We were long since docked before we got ashore. It was snowy and first, cleared up, and then turned to an outright blizzard. We climbed to a fortress, went to the big church, both were closed.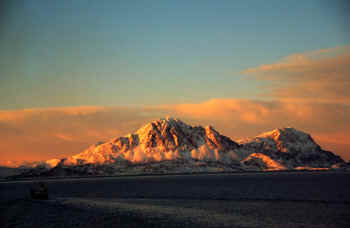 Mountains with a southbound Hurtigruten in the foreground.
We were planning to get off tomorrow to go hiking in Sällfjellt national park, but when we checked at the station, there were no bus connections that could get us there on a Sunday. So we are going to carry on to the Lofoten islands which means sailing all day tomorrow. Hopefully it will clear so we can see something. 8 1/2 hours to the next port of call, time for a book. "Whatever doesn't kill you only makes you stronger."
3/16 Sunday 5:38pm North of Bodo, still on Kong Harald
We went to bed last night to the sounds of a few Germans playing boggle or some other impossibly loud game. Ear plugs helped, at least it didn't keep me up long. Woke a quarter to seven, hung out on deck until 7:30 when we passed a marker denoting the arctic circle. I'm further north than ever before in my life.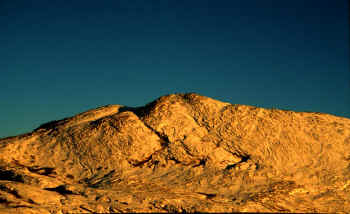 Snow covered mountain as we sail on.
It was a gorgeous day, nary a cloud in the sky. I spent 3 hours on deck sitting in a chair with my sleeping bag snuggled around me. Got a lot of looks, but hey it was great.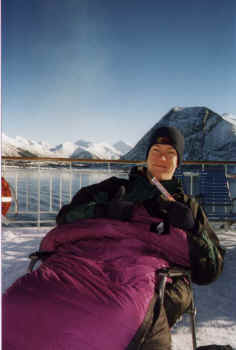 Spending the afternoon out on deck.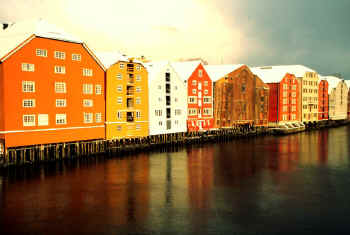 Warehouses along a canal in one of the villages.
We couldn't find an open stops in Bodo to buy maps at, so we'll have to sort it out on the island. We get off in about an hour, finally! We went to an overpriced and less than trilling aviation museum in Bodo. Did laundry on the boat before we leave it. Had to wear the robe for awhile, but hey, that is what is is designed for.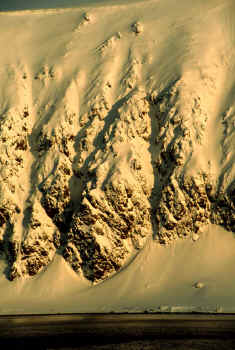 Steep mountain face.
My thoughts drifted as I watched the mountains go by. I thought of all my friends and each of their personalities. Makes me laugh to think of Brian rattling off Krispy Kreme donut nutritional information, or Kristian compressing gear to neutron star density. Maybe we can all go on a MN rock climbing super tour when I get back. "There is more than one answer to these questions, pointing me in a crooked line. The less I seek my source for some definitive, the closer I am to fine."
3/17 Monday 9:18pm Stamsund Hostel, Lofoten islands, Norway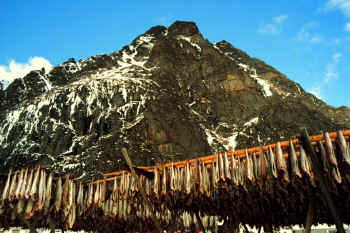 Cod drying on racks, Lofoten islands.
We got off the boat a little apprehensive since half an hour before we got off the boat, we read that this hostel was open for group advance bookings only this time of year. Luckily our concerns were unfounded. After a long hike from the ferry terminal, we spotted the hostel, very much alive and bustling with activity.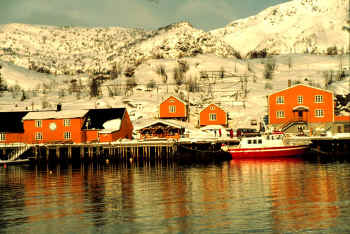 The best place on Earth, the Stamsund hostel.
We walked in the front door and came headlong into 20 Swedes who were busy packing to leave (and singing, Swedes always are singing). We couldn't find this Roar guy who was in charge, we eventually settled down and started dinner. The hostel is one of those very special 'real' hostels. It has character, wood burning stoves, cast iron fry pans, stacks of old guest books filled with praise, prose, photos and recipes.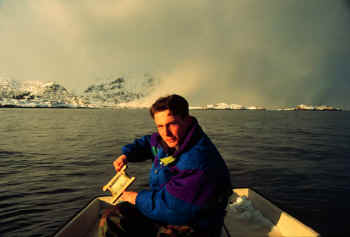 Neil working the fishing spool.
There is an old Swedish (Norwegian?) women here and 3 Germans. We have a colder loft to ourselves, a treat compared to our "cabin" on deck 7. Hiking is mostly a no go here, the snow is too deep. We hiked up a hill near the ski "resort" (one run) before lunch. We had burger (meat finally!) and chips for lunch.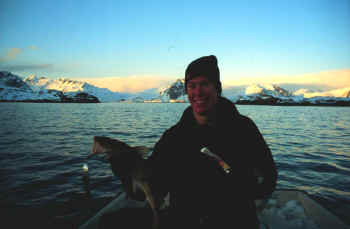 Keith with the cod caught after eating a Mento
We set out in one of the hostel's row boats in the afternoon, armed with a big heavy lure on a wooden spool. Rowing was hard, no oar locks. We fished for 2 or 3 hours without any success. We were started back towards the hostel when I figured, "what the heck" and tried popping a Mento like in the commercials. I kid you NOT, when I picked up the spool there was a fish on. It was a small cod (we learned later). Not real tasty, but my first saltwater catch ever. I couldn't imagine it happening in a more perfect way.
Selected bits from the hostel logs:
"There are no strangers, only friends who haven't met"
"Always walk with your face to the sun and the shadows will fall behind you."
"'The time has come to talk of many things' said the Walrus, 'of ships and sails and sealing wax, of cabbages and kings.'"
"We have to keep the place of silence and tell how important for life they are The silence we must not offer to the noise."
"I must go down to the sea again To the lonely sea & the sky And all I ask is a tall ship And a star to sail her by" John Masefield
"When you are at home by the fire, you want to be out on an adventure; when you are out on an adventure, you want to be home by the fire" Graham Swift, 'Ever After'
p.s. saw the northern lights for 5 minutes, hope to see more of them!
3/20 Thursday 9:45am Stamsund hostel
Tuesday we took the bus to Å, a very small fishing village on the southern most island. We decided to camp out for a night in hopes the the northern lights would make an appearance. There was suppose to be a nature trail leading along the lakeshore west of Å. No sign of any trail in the deep snow. We had to go cross country in the steep sometimes icy, treacherous terrain.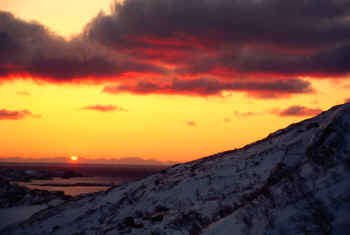 Walking towards the sunrise after a cold night camping.
We probably only made it 2 or 3km in but it took a long time. We were in perpetual shadows so it was pretty chilly. I hi behind a big rock and read a book until it was time to make dinner. A trangia stove just doesn't cut it in the winter, it took 1 1/2 hours to cook pasta and hot chocolate. The pasta was gum by time it was done. Turned in at 8:30, I was pretty warm all night, must've been -5 or less.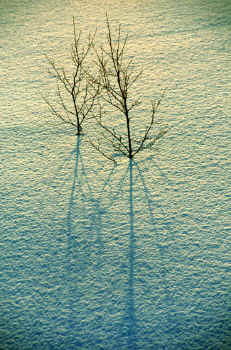 Small trees buried in the snow, near Stamsund.
We hiked out early in the morning and got the 6:45 bus back to here. After reading in the sun on the dock (great!), we had lunch and then went on a 15k (supposedly) hike around the mountains (on the roads). The 1st half was pretty good, but the last was on a busy highway. We are leaving tonight, we used up all our free days here, but I think it was worth it.
3/22 Saturday 8:49pm Laundry room of the Richard With
On our last day in the Lofoten islands, we took the bus to Slovaer or whatever. The scenery wasn't as good as that on the way to Å and then we ere stuck there for five hours waiting for the boat.
This is our third night of consecutive sailing. I don't seem to recall any of our ports of call, it is really a blur. We mostly were unsuccessful in finding anything that was open. The landscape has changed, looks very arctic, white and no trees. The ports are now small towns literally on the edge of civilization.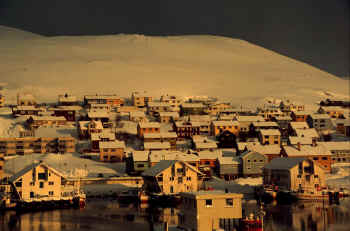 A small village in northern Norway.
We met an American guy and his Swedish girlfriend. I spent a lot of yesterday talking with them. It was actually really nice to have someone else to talk to. There is also an American family from Duluth, the one daughter went to Marshall with Katia & Kurt (Jankofsky). Small world per normal specs.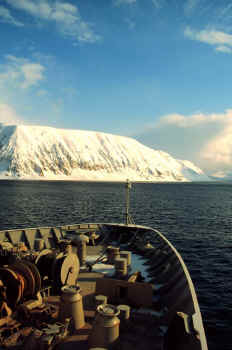 Bow of the ship, duh?
We are gearing up for Russia, sort of an excitement in the air, like travelling is an unknown adventure again, fraught with uncertainties. I think I must be losing weight, not eating very well on the boat at all. We did find a nice quiet "cabin" in the library that the American told us about. Traded for some new pulp fiction as well. "Those who cannot remember the past are condemned to repeat it" -Somebody famous
3/25 Tuesday 9:06am Murmansk Russia
We made it to the end of the line, Kirkenes Norway. We walked all over town and back but still had two hours to the bus. The taxi guys got us into the bus station so we could put our packs in a locker. We had to pay 350 NOK for one way trip, pretty damn expensive (for twice that you could fly from Murmansk to say St. Petersburg).
We went through 1 Norwegian and 3 Russian checkpoints (which got progressively harder). Still quite a serious business. The landscape was sparse, only low shrubs on the tundra driving on a narrow road cut through the snow drifts, long sticks marking the edges for the plow, Russians in their typical black/grey coats and fur hats walking in the wasteland. They showed us a Russian comedy show on the TV. Really strange, no very funny usually (but you can't understand a word of Russian). We drove through a few towns and the housing is in terrible shape, all of the functional style but dirty and run down.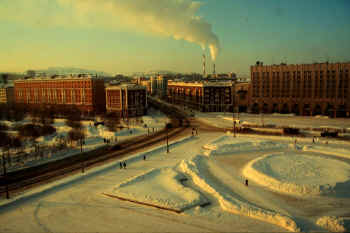 View from our hotel window.
Luckily there was this trilingual guy onboard who could translate the Russian drivers questions and tell him we wanted off at the Hotel Articka. The place is a huge building, biggest in town. We checked in, no problem and they took our passports. The room is ok, but for $100/night I would expect a lot better.
Yesterday we went to the overlook (the view of Murmansk at night or day is unimpressive, hazy smog hangs over the city) with this towering soldier statue. We went to the regional studies museum (had to pay full price, $0.25!) and eventually found the naval museum. Nothing is in English and almost no one speaks it. It is quite a challenge sometimes.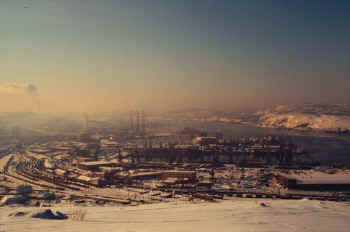 The skyline of Murmansk, Paris it ain't!
We ate at the Panorama Restaurant last night, luckily one guy spoke English so we were able to get a meat dish. Today for lunch was much harder, we eventually were lead to a table and just waited for some food to arrive (ended up as soup). Saw a little art museum nearby, the main one is inexplicably closed. Found a wooden mug for 70,000 rubbles, much cheaper than anything I've found in Scandinavia.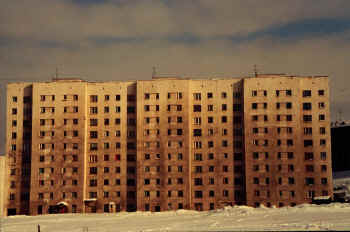 Typical Russian apartment complex, functional functional functional.
Since 2pm today we have run out of things to do. We did manage to find a Russian orthodox church this morning. There were all these old begging women on the outside. I gave them each 2 of my apple mentos, they looked like they needed the freshmaker. It is a shame the festival starts tomorrow. Bought 0.5l vodka for around $2.50, so cheap. There is a dead fly in the bottom though.
3/27 Thursday 5:54pm Norrkapp somewhere in the sea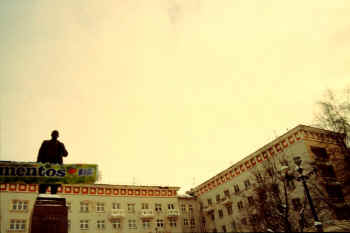 If Lenin had distributed packs of apple Mentos, would communism
have failed? I think not!
We ran out of things to do in Murmansk the second day, we had to just go back to the hotel and read. Getting back turned out to be a stressful experience. We had conflicting info on the bus; guidebook said 9am, reception said 10am, some said it left from in front of the hotel, another said from the train station. We decided that in front was correct, at 10am, 4 Russians got into a taxi bus, we didn't think much of it, but later found out that was the bus! Shit.
We were looking at being stranded with expired visas. The good ladies at reception began working on the problem, not sure what they did, but 10 minutes passed and a Russian came to us and said "Kirkenes?" Yeah. We got to his car and he drove like mad. We meet up with the minibus and we were off flying down the icy highway. Just relieved to be out, even though this one cost us 500 NOK (different company maybe? we still don't understand).
No boat in Kirkenes, cheapest hotel was a discounted 500, so I convinced Neil to camp. Setup near the sea port past the ferry terminal. Northern lights were out and pretty good for awhile, I stayed out in my bag for a few hours before it got too cold. Got some shots of the aurora and the comet (Hall-Bellop).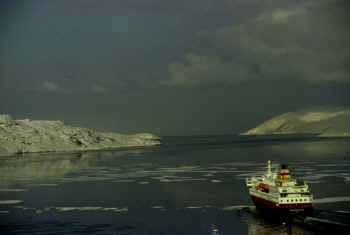 Hurtigruten sailing from the port in Kirkenes.
Today is the day between Ash Wednesday and Good Friday, apparently a holiday in Norway, all grocery stores and most gas stations are closed. Only a few slices of bread left, hopefully something in the next port.
4/3 Thursday 11pm Train heading north
Well we ended up sailing for 6 days straight back down to Bergen, surviving on our meager supplies from gas stations. The weather never improved much, the last day into Bergen was at least reasonable. Played a lot of cards Ryan and Åsa (who got back on at the Lofoten islands).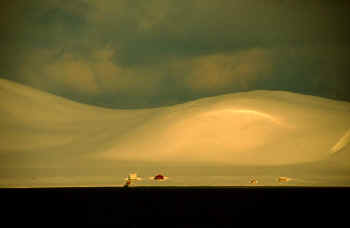 Lonely houses in northern Norway. Running out for a gallon of
milk is quite the adventure I imagine.
The last night on the ferry, in a desperate ploy to avoid eating bread and cheese again, we pooled our resources to come up with some spaghetti noodles and some sauce. Of course there is no kitchen we can use on the boat, that is unless you consider the heating unit in the sauna to be a stove (and we did!). Neil had just added the noodles to the pot when the ship's chef wandered in (for reasons unknown) and told us that the sauna was crew only after 4pm (not a word about cooking pasta in the sauna). The hardly cooked pasta went to the fish, and we broke out the bread.
The ferry was of course late getting to Bergen, but it was 15 minutes early being an hour late, so after a mad dash we made it to our train to Flåm. Only our train got delayed in Voss, we got hurried onto this bus which took us there, probably more scenic anyway (free too).
There was nothing open in Flåm save for the train waiting area (thank goodness!). The weather was terrible, rain was going sideways and fast. The scenery is absolutely incredible, soaring mountains right from the fjord. No food available, all we had was two pasta sauce mixes (and no pasta). My Baltika Russian beer exploded in the bottom of my pack, what a mess (and what a waste!).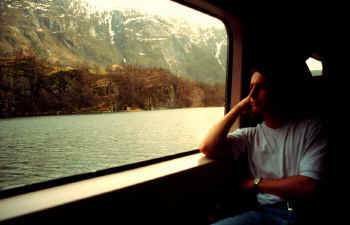 Neil chilling on the train ride back home.
We took the supposedly spectacular (in the day) trip to catch the Oslo bound night train. Left Nail in Oslo and b-lined to the McD's for an egg McMuffin. The rest of the trip back to Linköping was uneventful.