---
Hej,
After a very brief stay (1 day) in Linköping after returning from the World's Most Beautiful Sea Voyage (tm), I hit the rails again. The plan was to go cross-country ski trekking up in Abisko National Park, in the jättenorthern reaches of Sweden.
The trip was planned to be 5 or 6 days, but while back in Linköping I had learned that the graduate school were waiting for a decision from me. I had to cut the trip to only 2 1/2 days of skiing (cancel? nawwwhh)
If you haven't looked at a map of Sweden recently (or ever), you might forget just how long the bloody country is. It took me almost 24 hours of training to get to Abisko. It was already late in the afternoon, so I popped on my skis, heaved on my pack and headed into the park.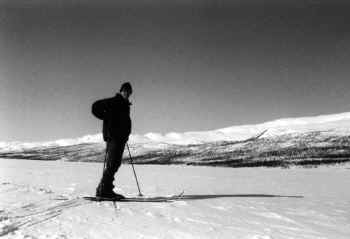 Skiing into the park the first day.
After the first few kilometers, it was fairly clear that my borrowed boots were at least a size too big. Moleskin was applied, but to no avail. My pack was also very heavy, making skiing quite a challenge (and downhill sections downright scary). I would definitely bring a sled next time. I reached the only official campsite in the park right before sundown.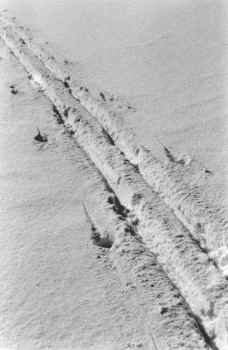 Tracks left in some virgin snow.
The snow was deep, trying to pack down the snow to setup my bivy left me a meter below the surface. Oh well, good shelter from the wind. It didn't get that cold during the night, -5 or -10C and I of course had layers and layers and layers of down and fleece keeping me warm (roll over in my sleeping bag, I don't think so!).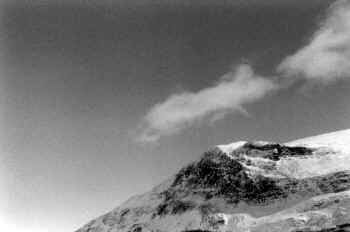 My attempt to imitate Ansel Adams, hmmmmmm...
I decided the next day to leave most of my gear at this campsite, and just take a day drip to the southern end of the park. It was a beautiful day, sunny, not a cloud in the sky. Skiing was much more fun with the lighter pack, but my feet still were not very happy. I had lunch with a great view of a perfect Ansel Adams mountain (and had B&W film in the camera to boot!).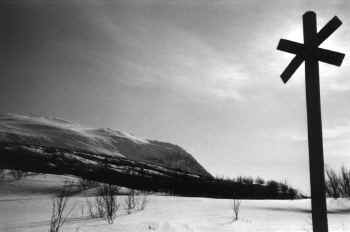 One of the numerous trail markers, hard to get lost on that!
After skiing back to my snow home, I enjoyed a delicious Kraft Mac & Cheese dinner (shipped in from the states of course). I got a little ambition and built a snow cave onto the end of my snow trench. That night was even cozier.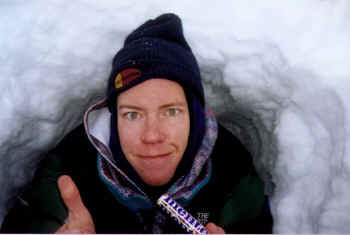 Nothing better than a nice snow cave.
The next day it was already time to head back. I almost made it back without ever falling down, almost... I was on the final hill that lead to the trailhead. I started to pick up speed, I tried to snow plow, but p=mv and I had a hole lot of m on back. I ended up toppling face first, head butting the snow. After performing the necessary contortions to get my skis and pack off, I decided to just walk the last 100 meters out.
I took the night train coming back down south to Linköping. I always like to lay my camping mat on the floor below the seats and sleep down there. Not much head room, you can't really roll over, but I definitely sleep better than in a seat. So I have been sleeping for 3 hours, got my fleece blanket over me, got my back to the warm radiator. All in all, pretty damn good night's rest, until...
I wake to the most horrible, disgusting noise you can imagine. Hmmmm, I say, wonder what that was. Go back to sleep... Ohhh, there it is again. I peer out from under the seat, oh no, it can't be, he can't be, he is! The Swedish guy in one of the seat above me is doing the good old Technicolor yawn into one of the SJ trash bags. Not just ill, violently ill. Talk about a rude awakening!
Didn't get much sleep after that. I returned to Linköping for a few days and decided on my graduate school (Oregon State in Corvallis, but enough of this non-travel talk). I still had two days of travel left on my scanrail pass. It goes against my religion to just waste part of a rail pass, so I had to find somewhere else to go.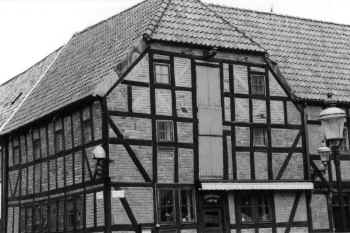 Old style building somewhere in Mälmo.
I decided on a national park in Skåne, southern Sweden. I never quite made it all the way to the park however, it was too hard to get to. I ended up spending the next day checking out some museums in Mälmo. They had a wicked cool natural history museum with fish, and reptiles, and little monkey creatures, jättebra.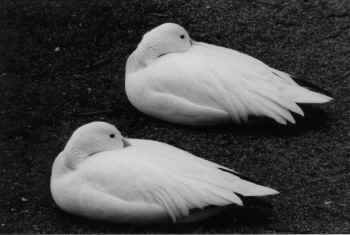 A couple of geese in a park in Mälmo.
Since then, I've been going to class like a good little student. Finished my take home exam last night in a marathon 7 hour session at the computer lab. I'm leaving Monday to travel in Britain and Ireland with Mike and Paul, two of my friends from the states. I'll be back on email briefly at the end of May, until then enjoy spring and catch some walleyes for me!