---
Hello again, A few months ago, my friend Johan came to me with a serious problem. He had several weeks of vacation time to burn and a brand new Honda CR-V. It didn't take long for us to concoct a plan: I would fly to Sweden and we would drive to the Alps. This more or less was the entire plan- we'd work out the remaining details in route.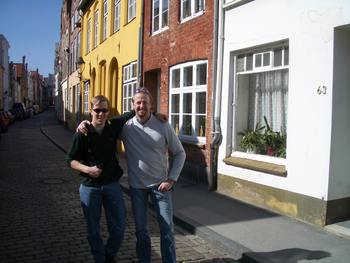 Keith and Johan in Lübeck
On a sunny spring day, Johan and I drove through the Swedish countryside. April is not really ideal weather-wise, but perhaps we were going to beat the odds. To speed things along, we paid the exorbitant fee to cross the Øresund bridge from Sweden to Denmark (the world's longest bridge). We blasted through Denmark and drove onto a ferry mere seconds before they closed the hatch and set sail for Germany As the sunset over the ocean, I made contact with Sebastian- a German friend from my stay in Linköping. This was my third new country that day and it was time to relax. We drove to his place in Lübeck, enjoying a nice evening sampling German brew at the pub.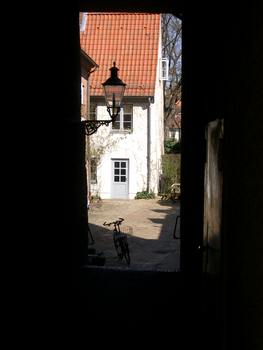 One of the many narrow alleys in Lübeck
The next day, Sebastian showed us around town. Lübeck has a compact downtown area with historic buildings and small secluded alleyways. It was another sunny day and the inhabitants were out in force enjoying the first real day of spring. We climbed the church tower for a nice view of the city. After saying goodbye over a big kebab from the local take-away, we hit the road. When we weren't stuck in traffic, we made good time on the German autobahn. Johan was doing the driving, my manual transmission skills leave a little bit to be desired. The autobahn isn't exactly a good place to mistake the clutch for the brake. Also I'm not sure Johan was keen on me grinding his gears.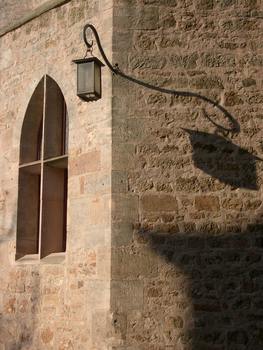 Morning light on a window and hanging lamp.
After another night in a random town in central Germany, we reached a campsite in the Black Forest of southern Germany. After an extended BBQ session assisted by various petrochemicals, we drank schnapps and talked late into the night with a quirky German named Frank. Frank didn't speak much English, but that didn't stop him from trying to discuss life, philosophy, and the existence of God. Johan and I mostly just nodded along in confused reverence.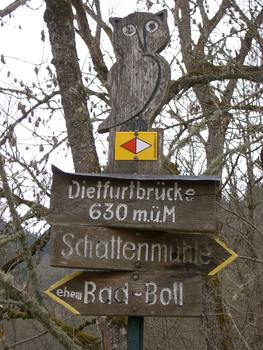 Trail sign along the Wutach Gorge.
Our guidebook information was sketchy, but we managed to find a trailhead along the Wutach gorge. We spend the day hiking through the deep gorge beside a river. The flowers were just blooming and some locals were out engaging in their own little horticultural relocation program. Johan struck up a conversation with the locals in his limited German. Apparently there was probably a bus on the other end of the trail that would probably take us somewhere close to where we started. The locals were right and Johan's interpretation solid. After catching a bus, a short hike along the road took us back to the car. To prevent gasification, I double bagged my hiking socks and we headed off to country #4: Switzerland.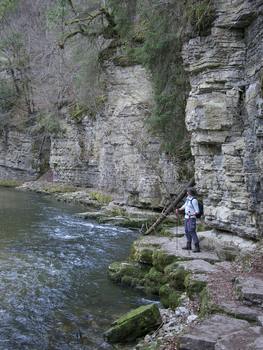 Johan stopping to take in the view along the Wutach Gorge trail.
It was that night that the biggest disaster of the trip struck. We found a nice little Italian restaurant for dinner. The menu was in German, but ordering a pizza is pretty easy regardless of the language. They had three beers listed on the menu, two of which we'd already sampled. Johan and I ordered the third unknown beer. The waiter arrived with our drinks and much to our horror we discovered we had just paid a small fortune for two non-alcoholic beers. We grudgingly drank them but had to order two regular beers to wash the vile taste out of our mouths. It was really between seasons in the Alps- not enough snow for skiing, too much snow for hiking. We hedged our bets by trying for a hike at lower elevation in the Swiss Jura Alps called Creux du Van via Poëta-Raisse.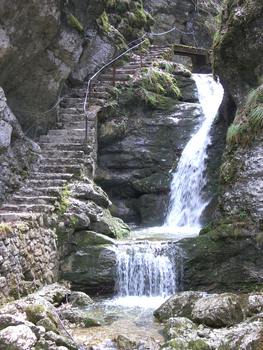 Stairs climbing up Poëta-Raisse.
I've done a lot of trudging up trails to gain a ridge or mountain vista, but I have to say this was one of the most beautiful ascents I've seen. Towards the top it wound through steep cliffs using stairs, bridges and narrow ledges. The snow hadn't fully melted in the shadows, it was only barely passable. Reaching the forested area near the top, we post holed in increasingly deep snow.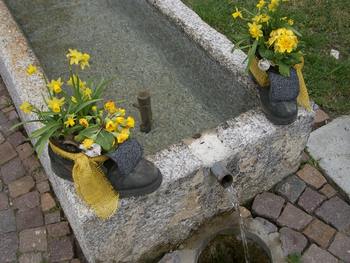 Public fountain in Swiss village.
Luckily, conditions improved as reached the top and the trail became more south facing. We enjoyed a few hours of hiking up in the alpine meadows in the sun. Judging from the number of trail markings, cafés and parking areas, we were in tourist central. But there wasn't a soul in sight- we had the whole place to ourselves. After enjoying the view on top of the Creux du Van cirque, we headed back down to catch a train back to our car.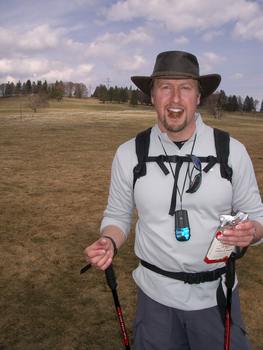 Johan eating some rum filled Swiss chocolate.
Next stop was my Spanish friend Adonai's place in Geneva. We ate a sickening amount of fondue that night and headed into Geneva the next day to explore. Only by force of sheer will did we kill the whole day in Geneva. There isn't that much to see in Geneva and worse yet the weather had turned rainy. To add insult to injury, we paid dearly for the day as we had parked in what must have been the world's most expensive parking garage.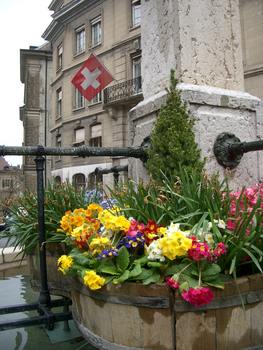 Swiss flag flying over a square in Geneva.
We returned to Adonai's place but were locked out, so opted to open our own pub in the Honda and wait for help to arrive. After Adonai returned, we had a nice dinner on the town, heading out first thing in the morning for country #5: France.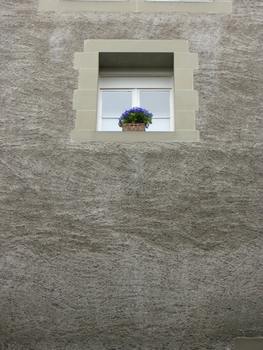 Looking up at a window in Geneva.
I have fond memories of a nice hostel I stayed at in Chamonix on my very first trip to the continent. Unfortunately, my fond memories didn't translate into solid navigation. I had to dissuade Johan from giving up and staying at a random skier's hostel whose standard was appalling low (even by my standards). We eventually located a YHA hostel of acceptable standard which was virtually empty except for a couple of crazy people. The mountains around Chamonix were socked in, but word on the street was it was snowing up there and we just needed to wait for it to clear. The next day we took the Montervers railway up to the Mer de Glace glacier where we confirmed that it was indeed completely socked in up there.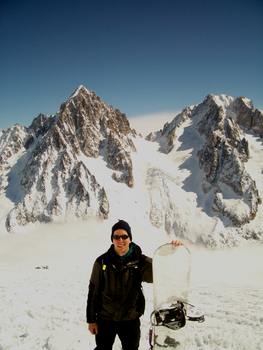 Powder day at Grand Monets
We took a train to on a scouting mission to the nearby Grand Monets ski resort. After securing our equipment for the next day, we hiked back to Chamonix along a scenic trail down the valley. All day we could hear the explosions up in the mountains as they controlled for avalanches, it was looking good, it was looking very good. The next morning we woke to clear skies and sun. Several feet of fresh snow had fallen at the top of Grand Monets and the top section had been closed until today. We spent a frustrating two hours in lift lines with the locals, but eventually we reached the 10,000ft+ summit. The conditions were excellent with light, deep snow. Johan got his first introduction to powder skiing.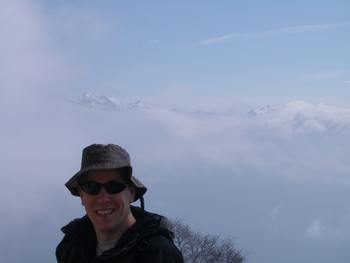 Keith enjoying a cloudy mountain vista.
Despite having the nerve to charge per ride to the top of the mountain, I paid for several more goes until all the fresh stuff was tracked. It was an amazing day on the slopes especially considering it was April. Satisfied with our one quality day of skiing, we headed on to country #6: Italy. We drove through the mountains of northern Italy to reach the town of Menaggio on Lago di Como. We had planned to do a longer hike along the lake, but I was catching a cold, so we opted for shorted walk up Monte Grona. The weather was spotty with clouds and fog blanketing the mountains, but we were occasionally rewarded by glimpses of distant peaks and down to the lake.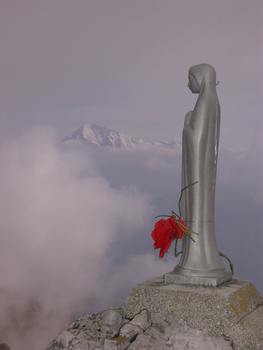 Flower next to a figure above Lago di Como.
Our vacation was drawing to a close, but not before we stopped for lunch in country #7: Lichtenstein. I was quite excited as I believed this completed my visit to the smallest countries of Europe (having previously been to Andorra and Luxembourg). But Johan was quick to point out that I hadn't been to Monaco which apparently is a sovereign nation, d'oh!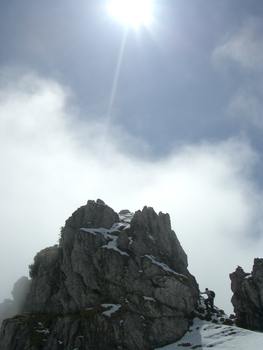 Johan climbing to the summit of Monte Grona.
From there we traveled north back across Germany and Denmark to return to Linköping. After a little trip down memory lane at the university, I caught my flight back to the UK. keith