---
Hej,
When we last left our hero, I had just returned from 3 weeks traveling about Europe. Unfortunately, it was then time to get a little work done. Maybe I'll describe some of my studies, just so you guys don't get the wrong idea.
A few days after getting back I had an exam in my first course in statistics. It is similar to the course I had at Morris, but included more in depth coverage of the areas. I did stacks of practice problems to prepare for the exam. The exam was 6 problems and I solved 5 of them. The sixth one was on Poissen process and I had missed those lectures and only my Swedish textbook had a section on it (which I failed to comprehend). It all worked out as I must've aced the first 5 as I still received the highest mark on the exam, toot toot! (my horn).
Immediately after the exam, I had to get to work on the first of two papers for my course on the Swedish Welfare System. I only had a day for the first paper, but luckily I had written most of it while I was waiting 7 hours at the airport for Erik. Finishing it up was a breeze, except for having to wait for over an hour for a computer. Linköping has 1, count them 1, computer lab suitable for word processing. Around 30 macs for 14,000 students, hmmmmmm. Swedes don't mind waiting so much, Americans do damn it!
The paper was an overview of the Swedish public policy making system and then the reasons I believed artifacts of this system have nurtured such an extensive system of welfare policies. In Sweden you have quite a number of political parties, 7 or something. Very rarely will one party have absolute control of the parliament. This necessitates coalitions between different parties and thus the policies passed by one government are more likely to survive despite shifts in the political winds.
Also, before a policy is brought to a vote, the policy must go through what is called a "commission of inquiry". This is a lengthy and time-consuming (maybe years) process in which everybody and their mother comments on a proposed policy. While tedious, it does allow for good research on the legislation.
It is worth noting that the welfare system is falling on hard times and its future is unclear. The only reason I managed to get our of our teachers was that it is probably due to the world-wide recession (and the resulting lack of budgetary money to support these programs).
After finishing the first paper, it was immediately time to start work on the second. I had two days left on my rail pass and they were burning a hole in my pocket, had to finish before I could leave (great motivator!). This second paper was a comparison on the alcohol control policies of Sweden and the US.
A little bit about the Swedish alcohol system might be in order. The system is very restrictive to say the least. Purchase of alcohol products in excess of 2.8an only be made at the state run System Bolaget shops. In Linköping, a city of around 150,000, there are only two of these. The closest to where I live is about a 3km cycle. They are open 9am-5pm and only on weekdays. If it is Saturday and you need a bottle of wine for your dinner party, you are SOL.
All alcohol is taxed heavily, a bottle of beer bought at the System Bolaget will run you about $3/bottle. These leads many Swedes (and exchange students alike) to turn to home brewing of beer and wine. Illegal distillation of spirits can also be found.
The drinking age here is 18 in pubs and restaurants and 20 at the System Bolaget. Drunk driving penalties must be much more severe here as most Swedes I know will hardly touch a drop if they are driving.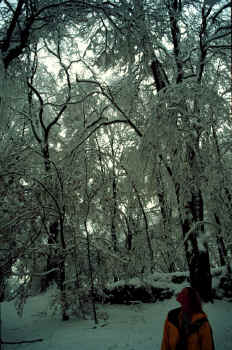 Michelle in the snowy woods of southern Germany.
So after finishing my academic responsibilities, it was time to use up the last of my rail pass. My friend from Morris, Michelle Gregor had just arrived in Itlay on the ELTAP program. I rang here up and as it turned out she and her friends had extra days on their pass as well. After consulting our respective guidebooks, we decided on meeting at the train station in Freiburg, southern Germany. I had 5 days and it took almost a full day to get there and a full day to get back. Perhaps a little crazy, but I could and it didn't cost me anything, so what the hell.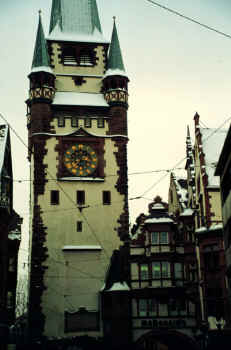 Can you spot the American embassy in this photo?
I met Michelle and two other Morris ELTAP'rs at the station. We found ourselves a hotel and in order to make it affordable, told them there were only 3 of us instead of 4. A ex-boyfriend of one of the other girls arrived later by his rental car. The room was plenty big for 5, but the trouble was the next morning. The manager knew something was up, so we had to play some cloak-and-dagger to get out. The only exit was right by reception, we looked into jumping out the window, but it was too far. The ex-boyfriend guy (sorry forgot his name, big surprise uh?) managed to sneak past reception while the lady was looking the other way. This left only me to sneak out. We decided on a diversionary tactic. The 3 girls and guy (who had reentered the hotel and pretended to be picking the girls up) went to the desk to pay the bill and occupy the manager. Meanwhile, I just walked straight out, pretending not to know them. Worked like a charm, I even threw in a convincing "excuse me" as I brushed passed the girls.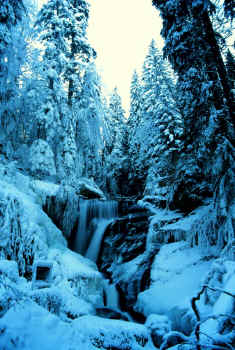 Waterfall near Triberg.
We spent our first day touring the local attractions in Freiberg. In the afternoon we drove (ah the sweet freedom of a car!) to a waterfall near Triberg (the highest waterfall in Germany) and then found a nice youth hostel to stay at (the first hotel had been too high stress).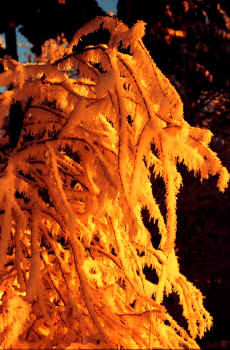 Snow clinging to a bush at sunset.
The second day we rented cross country skis and went up into the highlands of the black forest. It was a gorgeous day, sunny, warm, and pretty decent snow. It felt good to be on skis again.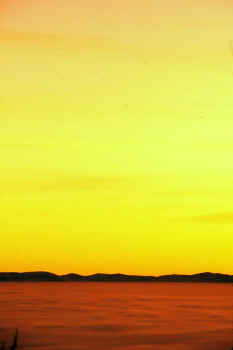 Sunset above the cloud line, driving on a mountain road.
Our last day, we were back in Freiberg. We took a cable car up into the highlands again to do some hiking. It was another great day, a refreshing break from the cold and darkness of Sweden. The black forest deserves its reputation. The hike back to Freiberg was probably one of the most beautiful forest walks I've ever done. There was a low cloud ceiling for the first half of the hike. After that, it was down into the mist.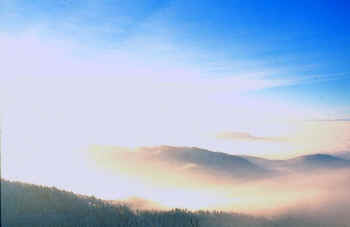 View before I dropped into the clouds.
All the trees were coated with white snow and ice. Combined with the bright sunshine, it was a photographers dream. I shot a roll of film that day alone.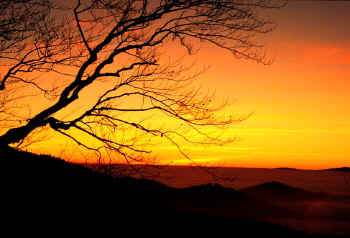 Sunset on our drive on a mountain road.
I picked up my pack from the locker at the train station, changed into some pseudo-fresh clothing and hopped the night train back to Linköping. My last day on my rail pass was used, it was a bitter sweet moment. Rest assured, I'm ordering another rail pass today.