---
Hej hej,
I trust everyone has had a good holiday season. I certainly had a memorable holiday (read: you better get that tea ready, this one could set a record).
After returning home from the K&M 12-day super tour, I spent two weeks back in Linköping. There were numerous Lucia parties to attend (they celebrate this Saint Lucia on the 13th with special choirs and dinners). At one point, we had been at parties or dinners 5 consecutive evenings.
On the 16th of December, my friend Erik flew in from the states to keep me company over the holidays. I traveled up to the airport in Stockholm to meet him. Unfortunately, KLM had held his flight on the ground in Minneapolis for 5 hours without letting them de-plane and call anyone. Consequentially, Keith had to spend 7 hours looking for things to do at the airport. After exhausting all other options, I managed to keep myself busy by writing a paper that wasn't even due for almost a month.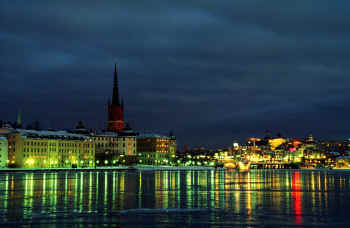 Stockholm lights reflecting in the ice.
Erik had brought over a big box of goodies for me from the states. I now have a good supply of Mac & Cheese, Rice-a-Roni, Tang, and other essentials. We spent the next day wandering around in cold Stockholm, then headed down to Linköping.
It only took a few days to exhaust all the interesting bits of Linköping (cathedral, old town, errr, well guess that is about it). So it was once again time to load up the backpack, sing a chorus of 'On the Road Again', and hoop the next night train outta Dodge.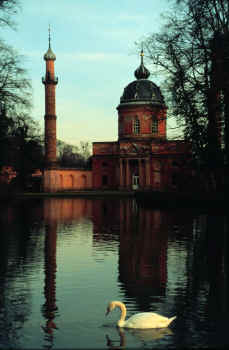 A park somewhere near Hedeilberg.
Our first stop was Hedeilberg Germany, Erik had a god-brother Mike on the US base there. Took us most of a day to get there, despite the fact that at one point we were on the ICE high-speed train going 251 km/hour, zoooom! Mike showed us around the Christmas markets, took us for a brief spin on the autobahn, drove us to a old castle and showed us the 'Little America' on the army base. It is really like America, they can buy American products at the PX and they get coupons so they can buy gas at US prices (which are about four times cheaper than everywhere in Europe).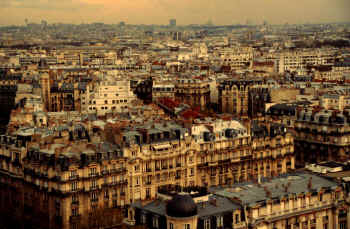 Paris just goes on and on and on...
After Germany, we took the night train to Paris. As with all trains during this holiday period, it was packed out. I was dozing in my seat and Erik was working on sleeping himself when the girl next to him, translating for this French guy, said "he is asking if he can have some of your water." A fair enough request since there is no drinkable water on these trains. Erik hands him his plastic pop bottle filled with water. The French guy then says something to the girl, who translates "he wants to know if you have a glass." Well la-di-dah, let me see if I have some perrie while I am at it. So Erik then has to wake me up to ask for my cup, a much used and recently duct taped monstrosity. The French guy looked a bit disgusted at the sight of the glass, but he went ahead and drank out of it anyway. Not all French are like this, just some of them :).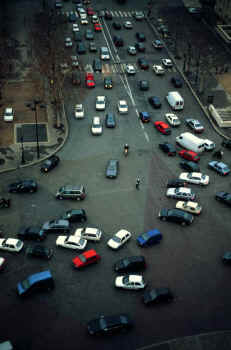 Glad I'm walking, scene from atop the Arc.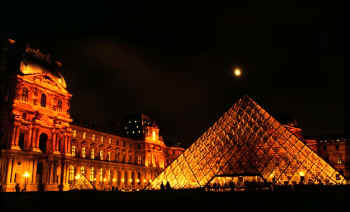 The Louve museum at night. Good old ultrapod, love that thing.
We spent a day in Paris, Erik got to catch all the standard must-see sights. We also so a few bits I hadn't seen like Monet's Water Lillies and the stain glass windows at Sainte Chaiplle. The next morning, Christmas Eve, we took the Eurostar train under the English channel to London.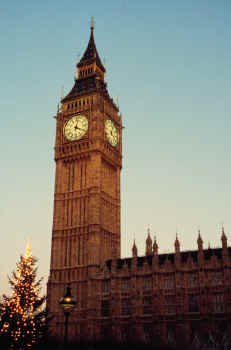 Look kids, big ben!
We spent four days all together in London. We stayed at a youth hostel filled with Australians and New Zealanders (they all go to England since it is easy to obtain a work permit). We saw Big Ben, Parliament and 10 Downing St the first day. My Swedish friend Johan and his Brazilian girl friend Luciana where also in London, so I headed to their hotel before going out to Christmas Eve dinner. We had some French Bordeaux wine and cheese in the hotel room with my Elvis Sings Christmas tape going in the background. Erik was out with bad ankles and Luciana was feeling ill, so it ended up just Johan and I enjoying a nice turkey dinner.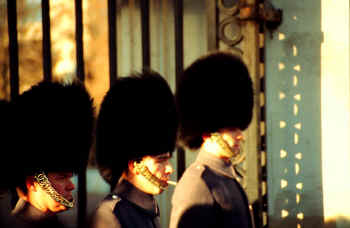 Guards outside of Buckingham palace.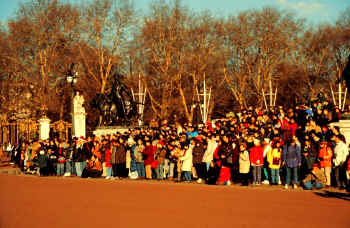 Tourists outside of Buckingham palace.
On Christmas day the hostel had a dinner for everyone. I had my fill of turkey, mashed potatoes, gravy, all similar holiday fare. It was a pretty slow day though, all mass transit was shut down so we couldn't go more than walking distance from the hostel. All and all, I'd try and avoid Christmas at a hostel.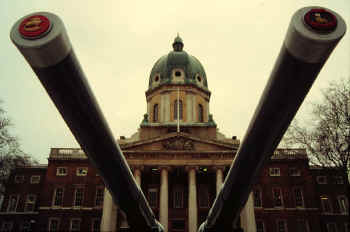 Big guns outside of the war museum.
In our remaining days in London, we say the famous Tower Bridge, went on a Sherlock Holmes walk, the Imperial War Museum, and caught the theatrical comedy 'Laughter on the 34th Floor' (it was sort of funny, not like a good episode of the Simpons though). Then we were off on the Eurostar headed for Brussels Belgium. On our way out of the hostel, one of the Australian girls said we ought to go to Brugge Belgium instead, so we did.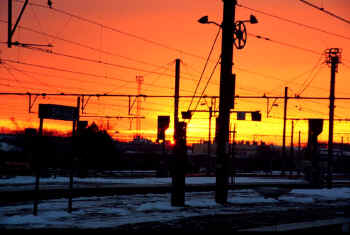 Sunrise at the Brugge rail station.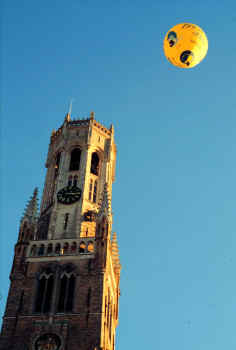 Clock tower in Brugge with a hot air balloon for effect.
It was a snap decision, but a good one. Brugge is one of the most beautiful cities I've seen. The German officers, in their appreciation of art, had decided not to bomb it during WW II. Lots of tall, old churches and many canals (which to our amusement, many of the tourists risked life and limb in order to snap photos of themselves on the questionable-at-best ice).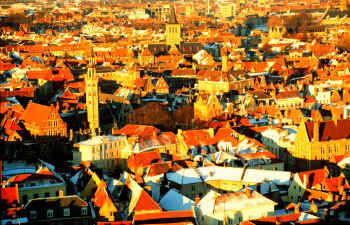 Late afternoon skyline from the Belfry.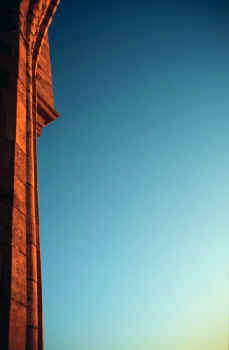 Side of the tower as the sun set.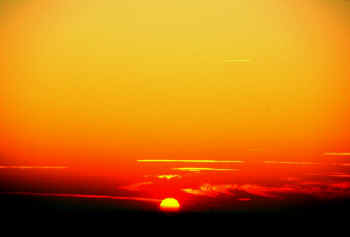 The sunset, look so warm, but I almost froze me fingers
off getting this shot.
We just wandered most of the day and then I watched the sunset from atop the town Belfry (and which by the squeaking noises I heard, may in fact have bats in it).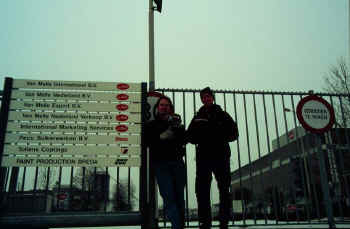 Outside the Mentos factory gate. The guard is to the left looking
quite amused.
The next day we decided on a digression on our way to Amsterdam. Well not really a digression, more like a pilgrimage. We found our way to Breda Holland. This city may not sound familiar, but if you examine any pack of the deliciously fruity mentos candy, you will find this name on it. Of course finding the factory was no simple feat, but after asking the train information lady, a taxi driver, and a bus driver, we managed to find our way to the front gate. Unfortunately, much to my disappointment, it was Sunday and the factory was closed. We did take numerous photos to document the historic occasion. If I do nothing else noteworthy in my life, if I never attain any greatness or prestige, at least I can say I have been to the Mentos factory.
We spent that night in Amsterdam. For $60 we got a cramped room for two in the red-light district of town. Amsterdam doesn't really have that many tourist sights, but we did find one very important one, the Heineken tour. The tour, at its aftermath, kept us busy until late afternoon. We then went through Anne Frank's house where the famous diary was written.
We left on another night train to Copenhagen. Another packed train, but after a few people left our compartment, I managed to put my Styrofoam pad on the floor and stretch out. I would have slept good too if it wasn't for the 3 ticket checks and 2 passport checks (which is strange since we only crossed one border). Our plan was to spend the day in Copenhagen and then night train to Oslo Norway that night. Unfortunately it was New Years Eve and the train didn't run. We couldn't find a cheap place to stay, so we opted to travel back up to Linköping.
My Scottish friend Neil and his girlfriend were in Linköping, so we at least had the makings for a good New Years party. Add in some of our high-octane home-brew white wine, and it was a done deal. We went downtown to catch the fireworks (a professional display along with a lot of drunk Swedes shooting off their own). Unfortunately we were too young or too poor to get into any of the pubs downtown, so we had to cycle back before we froze off any important bits of our bodies.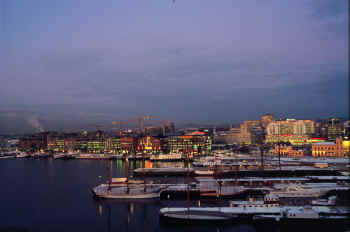 Pre-dawn light over Oslo's harbor.
We spent a day at my place here recuperating and washing our smelly clothing. Then it was off to Oslo by night train. I tried my pad on the floor bit again, unfortunately for me the seats were incredibly low to the ground. Rolling over involved some maneuvers that I think should only be attempted by the double jointed. Plus I was right next to the heater so I was well done by time we reached Oslo.
We saw more famous art in Oslo, the Scream by Edward Munch and a whole bunch of naked sculptures by somebody or other. Got more WW II history at the Norway Resistance museum, saw some actual Viking ships, and saw Norwegian farm buildings at the Folk Museum. It was as cold as ever in Oslo, -17C during the day (it just happened that our whole trip was during a big cold wave that broke records all over Europe).
We stayed at an over priced hostel. We had the room to ourselves until this big burly guy came in and took one of the top bunks. You take once look at this guy and go, "yep, he is going to snore like a son-of-a..." Good thing I always bring my earplugs with me (a handy little trick I'll have to remember next time at deer camp).
After Oslo, it was time for Erik to head back stateside. We night trained to Stockholm though this time I decided to sleep in my seat. We parted company, and from what I heard, Erik did eventually make it back on KLM, though they delayed him for awhile in Amsterdam.
Between this trip and the one before, I covered over 10,400km by rail. I'm going for enough kilometers to have gone around the earth once.
Take care, thanks for listening!