---
Last spring, after completing my contract gig in Boston, I moved back to the Promised Land, living in northern Minnesota with my friend Kristian in his log cabin. Here I was content for awhile, doing part time computer work, part time fishing, and part time log cabin improvement projects. I took a lot of saunas, ate a lot of venison and moose, and generally lived a very relaxing life.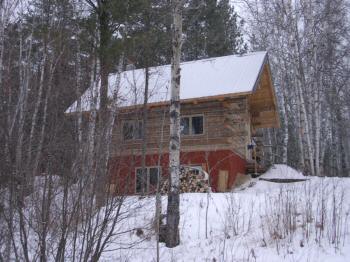 The log cabin.
Eventually, I decided I needed to come up with some sort of bigger life plan. So I headed out with my bin of computer gear in search of somewhere with electricity and a high speed internet. After taking over my sister Melissa's office in Minneapolis, I started Googling for something to do with my future.
It didn't take me long to find a program in Computer Speech, Text and Internet Technology at the University of Cambridge. I had looked at this program before, but hadn't got around to applying. The application was due in the UK in four days. A quick check of FedEx's web site revealed shipping time to the UK was three days. That left me with one day to fill out the application, compile supporting information, and obtain two references from people on the west coast. Despite the odds, I made the deadline and even more surprisingly, Cambridge decided to let me in. So here we go again, time to study abroad for the third time. At the end of September, I transferred my remaining Tupperware bins of possessions to my folk's garage in Hayward. With my two bags as full as the airline would allow, I headed off again to foreign lands.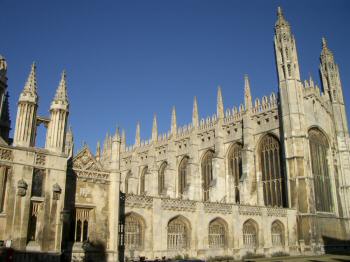 King's College Chapel.
Cambridge is a fairly small town of about 88,000 people, often described "as the only true university town in England". The town and school have a very long history, with the first students arriving in 1209. At first it was hard to believe I was going to be studying in this place with its fantastically grand colleges and world renowned academic reputation.
Every student at Cambridge must belong to a college, which are independent entities from the university. The colleges handle things such as housing, dining hall, social activities, etc. In my mad rush to fill out my Cambridge application, I spent all of about 15 minutes researching which colleges to apply to.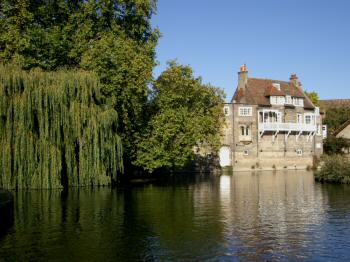 View of Darwin College.
Luckily it worked out okay and I ended up at Darwin College. At Darwin I don't have to put up with intimidating architecture, hoards of tourists, or drunken 18 year olds. Darwin is a laid back postgraduate college. While we may not have 500 year-old chapels, we do have our own private island and our bar stays open to midnight (an hour later than most).
I live in student accommodations provided by Darwin, just a few minutes away from the main college site. The room is small and doesn't have a private bath, but it has lights that turn on at the flip of a switch, waters that runs when you turn the handle, and I have yet to have the grey water system overflow. The people living on my floor are friendly and come from around the world: Germany, Singapore, China, Iraq, Italy, and even one from Britain.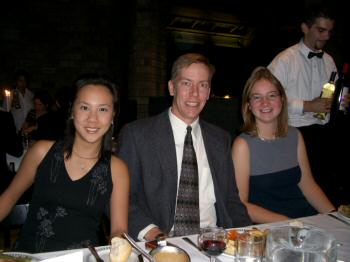 If I have to wear a suit, this food had better be good!
With a week before classes began, I had time to get settled and try and meet some new people. In an effort to achieve the latter, I headed off one night in search of an international student game night I saw advertised. I wandered up and down St. Johns/Trinity/Kings/Trumpington Street (sadly this is in fact one single street, the Brits seem to like to name the same street as many things as possible in the shortest possible distance- without labeling any of them of course). Truth be known, without my GPS leading me, I'm pretty crap at navigation (okay, some of your might know that already, see episodes: Lost in Moscow, Lost on the Way to My Deer Stand, etc). Turns out I walked right by the college I was looking for.
Long about the time I was about to walk by it a second time, I ran into a bunch of other students who seemed to be about as lost as I was. Together we negotiated our way to the game night, where a bunch of people were trying to amass the most match sticks by making other students say the words "yes" or "no". We tried to have fun at the game, but it got boring quite rapidly. So instead of playing more grade-school ice breaker games, we beat a hasty treat to a nearby pub for a pint and to watch a little football on the tele. For those not versed in British vocabulary, this means we to a bar, drank beer, and watched soccer. Just for the record, I didn't really watch the game where some German team thumped Manchester United. We all know soccer is boring and clearly inferior to American football (Go Vikes!).
Unfortunately classes eventually started, putting a damper on my pint drinking and football watching ways. My course is known for its challenging and time consuming nature. Compared to my past "study" abroad trips, my adventures have been few and far between (unless you count deriving the decision boundary of two multivariate Gaussian distributions as an adventure, but I don't reckon anybody does).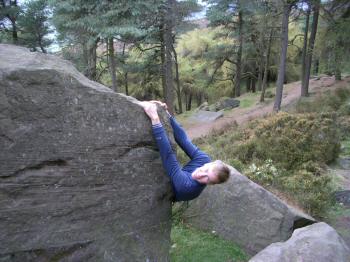 Bouldering in the Peaks District.
I did escape Cambridge for one day in Michaelmas term, going with the Cambridge Mountaineering Club to a crag in the Peaks District. It was their fresher's meet where they give newcomers an introduction to the various aspects of rock climbing. I am not exactly a newcomer to climbing, so it was a bit slow paced. But it was fun nonetheless to be out somewhere with a little more topography than Cambridge. I guess it is good thing I'm not studying an hours from the Alps, I'd fail my course for sure.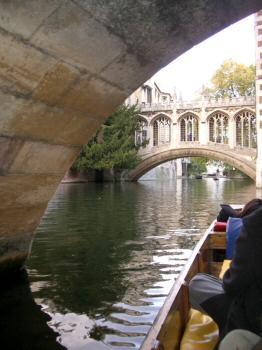 Punting on the Cam.
Other than that one day, I spent the rest of term in Cambridge- sad but true. I have however dabbled in a few extracurricular activities. I play on the Darwin Ultimate Frisbee Team where I mostly concentrate on not screwing up too badly whenever I get my hands on the disk. I do some paddling with the Cambridge Canoe Club, where I mostly try not to repeat my first outing's wet exit into the Cam. I also had a very short-lived stint with the Cambridge Competitive Wine Tasting Team. It turns out while I enjoy wine and can tell good wine from the bad, I really could care less whether a wine has hints of coconuts with a developing secondary characteristic of mocha with subtle hints of cloves. Plus these freaks routinely spit out perfectly good wine.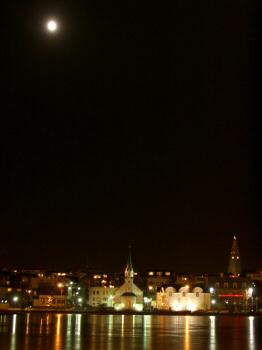 Night view of Reykjavik, Iceland.
After finishing an exhausting 8 weeks of classes, I hopped a flight back to the US for the holidays. In route, I spent two days visiting Reykjavik Iceland. The first day (and I use the term day in the very shortest sense of the word) I spent walking around town, visiting an outdoor museum of historic buildings,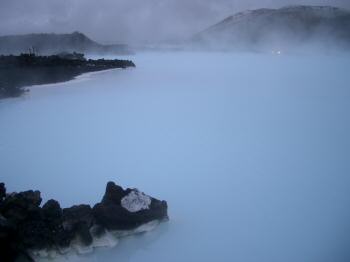 The Blue Lagoon, Iceland.
My second day in Iceland, I spent at the Blue Lagoon. The Icelanders have taken the runoff from a geothermal power plant and created a spa featuring a huge outdoor hot pool. It was a very relaxing day, soaking in the pool and watching the snow fall in the surrounding volcanic hills. I'd really like to go back in the summer and do some hiking around Iceland.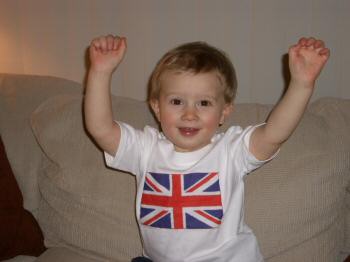 Owen sporting the union jack.
Once back in the states, I spent four weeks visiting family and friends. I spent awhile in Hayward with my folks and some time in Duluth with my sister. I got to see my two-year-old nephew Owen who now talks nonstop (though nobody is quite sure what he is saying a lot of the time). Everybody was able to make it to our first Christmas together in Hayward.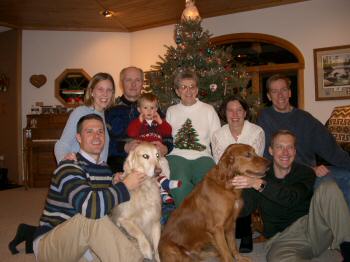 Christmas 2003 in Hayward.
I spent some time at the log cabin where we finished the permanent sauna and installed a battery bank to provide electricity. I caught some pike ice fishing and reminded myself why you should really keep your digits out of their mouth. I made it down to see our friends Stacy and Brad get married and reminded myself why you shouldn't ride behind someone in a car who has had too much to drink.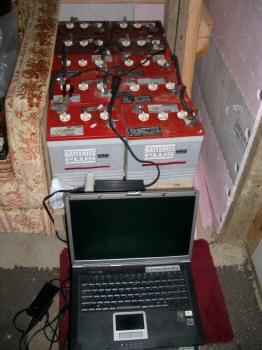 Computing in the north woods.
After basking in a bonfire lit by flaming arrow/car flare, I took one last sauna to ring in 2004. The next day, with 70lbs of Sam's Club and Wal-Mart groceries in tow, I caught a flight back to Cambridge. Term began today, so I suspect I'll be going "underground" again. I'll write again when I get a chance. Take care and let me know how you're doing.