---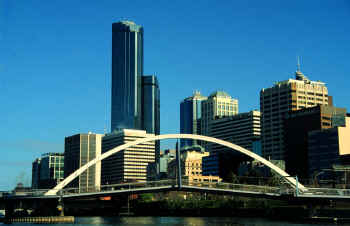 Skyline of Melbourne, looking at the footbridge across the Yara river.
I had two expectations upon my arrival: a) my checked bag had been routed to Borra Borra and b) my promised airport pickup person would be in Borra Borra. Luckily, only the latter occurred. Of course 1am on a Sunday morning is not the best time to be stranded at the airport (it is 20 miles from the city). I made friends with a nice fellow Chris who was there to pick up another US student that never showed up. Chris brought me to the Miami Hostel where I crashed until morning.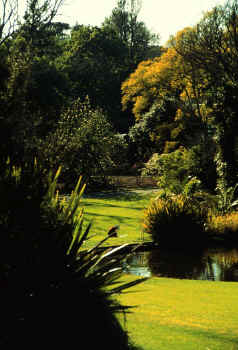 Artist drawing in the botanical gardens.
I spent part of Sunday wandering around the city on foot. For the first couple of hours I had to mumble 'look right, look left' every time I crossed the street (they drive on the left down here). I went out to lunch with Johan, another exchange student from Sweden, I had to stop him twice today from trying to step out into traffic. You really got to watch it. I also took a stroll through the botanical gardens. They have an incredible variety of plant species, really amazing.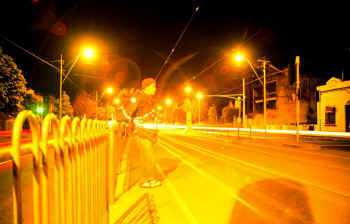 Keith waiting and waiting for the tram.
I spent Monday and most of today (Wednesday), filling out forms and waiting round for the RMIT people to get there stuff figured out (they are really not very efficient or organized). I did get registered today though. I'll be taking Melbourne on Foot, History and Aesthetics of Photograph, Data Communications, and Graphical User Interfaces. I caught a bit of a bug and spent half of yesterday in bed. I'm feeling better now, though I still have a headache.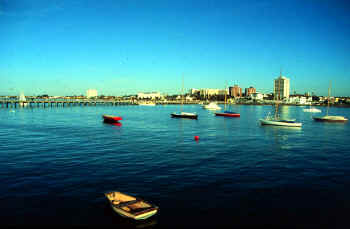 Boat in the harbor at St. Kilda.
That's all I can think of for now, so take care and send me mail.